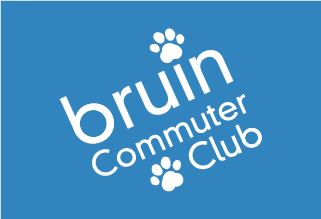 UCLA faculty, staff, & students who meet the eligibility requirements below are automatically Bruin Commuter Club members and may be eligible for benefits. 
BCC Faculty & Staff Eligibility
Faculty and staff must have an "active" status in UCPath with an appointment time of 43.75% or more. UCLA-registered students with an active status and a 100% staff appointment in UCPath are eligible for staff BCC benefits.   
All participants must use one of the following sustainable transportation modes or not hold a single-occupancy vehicle parking permit:
UCLA Carpool Permit 
UCLA-Issued Transit Pass (excluding UCLA Co-Pay)
Bicycling  
Walking  
Faculty & Staff Benefits
BCC Student Eligibility 
Students must be an actively registered UCLA student, not hold a single occupancy vehicle UCLA permit, and participate in one of the following sustainable transportation modes:
UCLA Carpool
UCLA-Issued Transit Pass (excluding UCLA Co-Pay)
Student Benefits
Bruin Commuter Transit Benefit Program


UCLA Transportation's Bruin Commuter Transit Benefit program offers one free quarterly transit pass for eligible students, staff, and faculty. The pass is valid for any of the seven transit agencies serving the UCLA campus: Los Angeles Metro bus and rail lines, Santa Monica Big Blue Bus, Culver CityBus, Antelope Valley Transit, Santa Clarita Transit, Long Beach Transit, and LADOT Commuter Express.

Participants must be current UCLA students, staff, or faculty with a valid BruinCard, who do not have an active UCLA parking permit, and must not have held a UCLA-subsidized transit pass or joined any other transit promotion within the last two years. UCLA Transportation will not provide refunds to customers who currently hold a transit pass to take advantage of this program. Visiting Scholars and UCLA Extension Students are not eligible for this benefit.

To participate in the Bruin Commuter Transit Benefit program, please click here to register using the form and complete the Metro Survey. If you are eligible, you will receive an email notification with instructions on how to obtain your transit pass.  

Bruin Commuter Club members (staff and faculty only) who commute to campus by biking can select one or more of the following items (up to a $50 value):

Commuter Passport from UCLA Recreation

  •  Provides access to on-campus showers and/or lockers at the Student Activities Center.
  •  Shower and locker access ($15)

  •  Shower access only ($10)

Helen's Cycles Vouchers (Santa Monica location only)

  •  Choose between a $25 or $50 value
  •  Can be used toward the purchase of a bicycle, parts, accessories and more

The Bike Center Vouchers (locations in Santa Monica and Culver City)

  •  Choose between a $25 or $50 value


To apply for your bike benefits:

1. Register your bike through Bike Index free of charge.
2. Register for your bike benefits through this form.

Bike benefits will be sent out via email. If you selected a UCLA Recreation Commuter Passport, you will receive a promo code to redeem at the UCLA Recreation online store. The pass is valid for a fiscal year but will need to be renewed each quarter with the same promo code. 


Note: The following vouchers are unavailable until further notice.

UCLA Bike Shop Vouchers

  •  Choose between a $25 or $50 value
  •  Can be used toward bicycle equipment, tune ups, accessories and more

Incentives are nontransferable and have expiration dates. UCLA Commuter Passports and LACBC memberships expire one year from purchase date. All other vouchers expire at the end of each fiscal year (June 30).

For more information or questions regarding BCC Bike Benefits, please contact us at transportation@ts.ucla.edu.

The Guaranteed Ride Home (GRH) program provides a safety net for employees and commuting students who use sustainable transportation to get to campus without the worry of getting stranded due to illness, unexpected overtime, or another qualifying emergency. In the event of a valid emergency, GRH ensures that employees and students using sustainable transportation will be reimbursed up to two times per fiscal year (July 1 - June 30).

Participants must be current UCLA students, staff, or faculty with no active UCLA single occupancy parking permit (carpool permits are eligible). Dorm, Weyburn, and Hilgard housing students are not eligible. 

How it Works:

  •  

If an eligible employee or student has a qualifying emergency, they call an Uber/Lyft, another transportation network or carsharing company, taxi, get a rental car, or take public transit to get them from campus to their home, personal vehicle, a medical facility, daycare, or school.


  •  

Once a ride has been utilized, fill out the 

Smartsheet intake form.


  •  Employees: Reimbursements are reviewed by Metro. You will be emailed a GRH reimbursement claim form via DocuSign where you will attach a copy of your receipt. Metro must receive the completed reimbursement form within 60 days of using the emergency ride. Completed forms are sent to Metro every two weeks. Metro will send a reimbursement check within 10 business days if approved.
  •  Students: Reimbursements are reviewed by UCLA Transportation. You will attach a copy of your receipt to your Smartsheet intake form. Due to delays with COVID, please allow up to 6-12 weeks for a reimbursement check if approved.
  •  

Note: Employees and students must ensure they are only utilizing the program two times per fiscal year. Any further rides during the same fiscal year will not be reimbursed.

What qualifies as a valid GRH emergency?

  •  Personal illness/emergency
  •  

Unexpected illness/emergency of an immediate family member


  • 

Carpool/vanpool driver has an emergency or unexpected overtime


  • 

Carpool/vanpool driver illness


  • 

Employee is required to work unscheduled overtime

What does not qualify as a valid GRH Emergency?

  • 

Personal errands


  • 

Non-emergency appointments/meetings/doctor visits


  • 

Voluntary overtime or coursework


  • 

Public transportation disruptions or delays for any reason


  • 

Termination/layoffs


  • 

Being sent home from work early due to scheduling issues by management


  • 

A ride to work


  • 

Business travel


  • 

Inclement weather


  • 

Any trip where alternate transportation could be arranged in advance


  • 

On-the-job injury


  • 

Mechanical breakdown of carpool or vanpool


  • 

In place of a loaner/replacement vanpool vehicle


  • 

If a vehicle is towed, impounded, or cannot be accessed because of police activity


  • 

Early release from work due to loss of power, lighting, or network access at the worksite.


  • 

Being sent home from work early for any reason other than is specified in the rules as a valid emergency


  • 

Natural disasters, including but not limited to fires, mudslides, flooding, and earthquakes are excluded as a valid reason for a GRH reimbursement