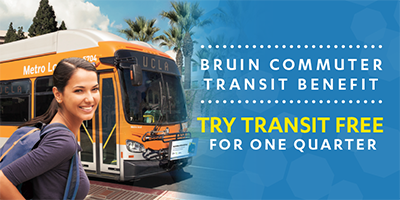 What is the Bruin Commuter Transit Benefit?
UCLA Transportation's Bruin Commuter Transit Benefit program offers one free quarterly transit pass for eligible students, staff, and faculty. The pass is valid for any of the seven transit agencies serving the UCLA campus: Los Angeles Metro bus and rail lines, Santa Monica Big Blue Bus, Culver CityBus, Antelope Valley Transit, Santa Clarita Transit, Long Beach Transit, and LADOT Commuter Express.
See all the places you can go with your free transit pass, including shopping centers, restaurants, museums, and sports and entertainment venues.
 
---
Who is eligible?  

Participants must be current UCLA students, staff, or faculty with a valid BruinCard ID and cannot have an active UCLA parking permit.
All participants must not have previously held a UCLA-subsidized transit pass.
Please Note: UCLA Transportation will not provide refunds to customers who currently hold a transit pass in order to take advantage of this program. Visiting Scholars and UCLA Extension Students are not eligible for this benefit.
 
---
How do I participate?  

To participate in the Bruin Commuter Transit Incentive program, please click here to register. A customer service representative will check your eligibility status and reach out with additional information. 
If you would like more information or have any questions regarding the program, please contact our customer service team at transportation@ts.ucla.edu or (310) 794-7433.