To minimize the spread of the COVID-19 virus, the BruinCar office is closed to in-person transactions. To contact BruinCar staff please email 
BruinCar@​ts.​ucla.​edu
 or call (310) 825-2963 (ext. 1). BruinCar support staff is available Monday through Friday from 8:00 a.m. - 12:30 p.m. and 1:30 p.m. - 4:00 p.m.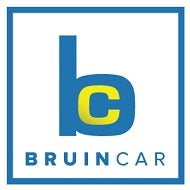 BruinCar provides transportation options for faculty, staff, and students for official university business. Customers can rent vehicles from the internal BruinCar fleet or arrange facilitated rentals through external agencies. 

We care about our BruinCar customers' safety. Please note that vehicles are now equipped with GPS tracking, which monitors speed and location at all times.
All staff and students must have an active BruinCar account to use BruinCar. We have a new reservation system launched in September 2020. If you have not signed up since then please create an account below.
Please Note: BruinCar can no longer provide service for customers paying through federally funded accounts. If you have a federally funded account or need a rental not related to university business, please visit UCLA Travel Services.

New Accounts
We encourage first-time BruinCar users to pick up rentals during our office hours. If your first reservation is for the weekend, please consider picking up the vehicle before 4 p.m. on Friday.
Students cannot directly make BruinCar reservations. Instead, they must work with a Reservation Authorizer (RA), generally a department representative. Your RA can provide some of the information necessary when you create an account.
If you are part of a student group you may already be represented by one of the following organizations:
If your group/department does not have an established RA then a staff member approved to make charges against department funds will need to sign up.
If your sign-up request is not completed within 30 days of submission, it will be deleted. You must then restart the sign-up process.
If you need assistance setting up your account or with a reservation please contact us:
Email: BruinCar@ts.ucla.edu 
Phone: (310) 825-2963 
8:00 a.m. - 12:30 p.m. and 1:30 p.m. - 4:00 p.m.
Monday - Friday 
BruinCar Cleaning Protocols During COVID-19

In an effort to keep our customers and employees safe and healthy during this time, please follow these important guidelines.

All University vehicle operators and occupants are required to:

   - Wear a face mask when traveling in a University vehicle.
   - Follow disinfecting protocols established by UCLA Transportation (cleaning instructions can be found in each vehicle).
   - After refueling the vehicle, please utilize the hand sanitizer provided before touching any surfaces inside.
   - Please be courteous to your fellow Bruins and remove all personal belongings and debris before leaving the vehicle (including face masks, paper towels, etc.). Your actions directly impact the next driver.

Roadside Assistance

The Roadside Assistance Program is offered for all university vehicles conducting official university business and is available 24 hours a day, 7 days a week. If you need help, please call (800) 825-2963.

If you have an accident please follow the instructions for Accident Reporting. Do not give out your personal insurance.

External Rentals

If BruinCar's internal fleet does not have a vehicle available for your resrvation we can arrange rentals through an external rental agencies (Enterprise, Midway, etc.).

BruinCar needs at least 48 business hours to ensure the rental agencies can meet rental requests.

Parking – Due to the implementation of the Bruin ePermit system, our external rental agencies will no longer be able to provide daily parking passes. For information on where you can purchase parking passes, please visit our Visitor Parking page.

BruinCar will not reimburse anyone for fees associated with parking the vehicle, or be responsible for any citations that may be attributed during the rental.

Driver Safety Training

If your department requires you to complete UCLA's Driver Safety Training course please complete the Online Driver Safety Training Request form.

For more information please check out our Driver Safety & Compliance page.