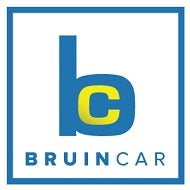 Start Your Reservation or Create an Account
BruinCar provides transportation options for faculty, staff, and students for official university business. Customers can rent vehicles from the internal BruinCar fleet or arrange facilitated rentals through external agencies. 

We care about our BruinCar customers' safety. Please note that vehicles are now equipped with GPS tracking, which monitors speed and location at all times.
Please Note: BruinCar can no longer provide service for customers paying through federally funded accounts. If you have a federally funded account or need a rental not related to university business, please visit UCLA Travel Services.

New Accounts
All staff and students must have an active BruinCar account to use BruinCar.
To sign up, follow the simple two-step process:
Complete your BruinCar profile by providing the required information through 

this form

.

Sign up for the BruinCar Electronic Pull Notice (EPN) by following the

EPN registration process

.
Both steps are necessary to successfully create your BruinCar account.
Please keep in mind that it may take 3-5 business days to process your account creation due to potential delays within the DMV pull programs.
Kindly note that incomplete sign-ups will be deleted after 30 days, requiring users to start the sign-up process again.
If you require Motorized Cart or Driver Training, you can submit a Training Request. However, please ensure that the driver has an active LMS profile before requesting driver training.
We encourage first-time BruinCar users to pick up rentals during our office hours. If your first reservation is for the weekend, please consider picking up the vehicle before 4 p.m. on Friday.
Students cannot make BruinCar reservations on their own. They need to work with a Reservation Authorizer (RA), who is usually a department representative. The RA can provide the information you need to create an account.
If you are part of a student group you may already be represented by one of the following organizations:
If your department or student group does not have a Reservation Authorizer (RA), then a staff member who is authorized to make charges against department funds will need to sign up for BruinCar.
If your sign-up request is not completed within 30 days of submission, it will be deleted. You must then restart the sign-up process.
If you need assistance setting up your account or with a reservation, please contact us:
Email: BruinCar@ts.ucla.edu 
Phone: (310) 825-2963 
8:00 a.m. - 12:30 p.m. and 1:30 p.m. - 4:00 p.m.
Monday - Friday 
BruinCar Cleaning Protocols

At BruinCar, the health and safety of our community members is our top priority. Before returning your BruinCar, we kindly ask you to review the following guidelines to ensure a clean and welcoming environment for all users.

Vehicle Inspection Form

For all BruinCar trips, you are required to fill out a Vehicle Inspection Form before and after your trip. Please note there is a cleaning fee of $141 per hour for vehicles returned in less-than-ideal conditions. We strive to provide clean and well-maintained vehicles, and this fee covers the additional time and resources required to restore the vehicle's cleanliness for future users. By keeping the vehicle clean during your trip, you can help us avoid these fees and contribute to a positive experience for everyone.

Interior Cleaning

When you return a BruinCar vehicle, we kindly request that you take a moment to inspect the interior. Please remove any debris and gather your personal belongings to maintain cleanliness for the next user. This simple step ensures that each person who uses the vehicle can enjoy a clean and comfortable environment.

Roadside Assistance

For trips within 75 miles of campus, please call the following number for roadside assistance: (310) 478-1201

For trips outside of 75 miles from campus, please call the following number for roadside assistance: (833) 622-7377

External Rentals

If BruinCar's internal fleet does not have a vehicle available for your reservation, we can assist you in arranging rentals through external rental agencies.

Please note that BruinCar requires a minimum of 48 business hours to ensure that the rental agencies can accommodate your rental requests effectively.

Parking

With the introduction of the Bruin ePermit system, our external rental agencies are no longer able to provide daily parking passes. For information on where you can purchase parking passes, we recommend visiting our Visitor Parking page. It will provide you with details on the available options for obtaining parking passes during your rental period.

It's important to clarify that BruinCar will not reimburse individuals for any fees associated with parking the vehicle or be held responsible for any citations that may be issued during the rental period. It is the responsibility of the renter to comply with all parking regulations and cover any associated costs.

Driver Safety Training

If your department requires you to complete UCLA's Driver Safety Training course, please complete the Online Driver Safety Training Request Form.

For more information please check out our Driver Safety & Compliance page.