Highlighted Transit Programs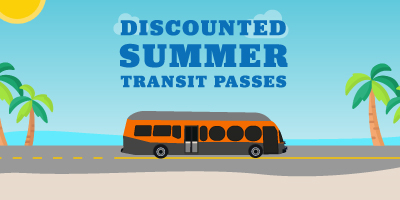 Discounted Summer Transit Passes
Discounted transit pass pricing is continuing through summer! Enjoy extra savings in addition to our already subsidized transit pass rates.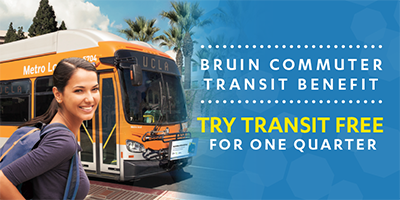 Bruin Commuter Transit Benefit
Our Bruin Commuter Transit Benefit program offers one free quarterly transit pass for eligible students, staff, and faculty. The pass is valid for any of the seven transit agencies serving the UCLA campus.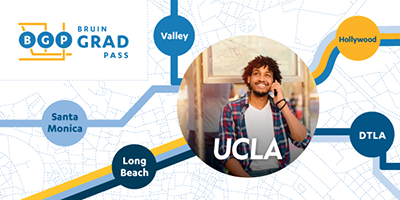 Bruin Grad Pass
Through their student fees, UCLA graduate students have access to the Bruin Grad Pass transit program, which enables use of all local transit agencies and commuter lines serving campus.
 
---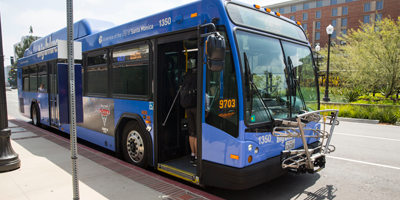 Public Transit at UCLA
UCLA Transportation subsidizes eligible UCLA students and employee transit pass costs for seven transit agencies. Avoid traffic, relax, sleep, study or read while improving traffic congestion and promoting sustainability.     
Prospective participants must fall into one of the categories below to be eligible to purchase a subsidized transit product:  
Current UCLA student enrolled for the academic quarter
Faculty or employee holding an appointment time of 43.75% or more time   
How to Purchase a Subsidized Transit Pass

UCLA customers can purchase or renew their transit passes online at the beginning of each academic quarter. Please note that due to new Federal guidelines regarding subsidized transit passes, all UCLA students and employees purchasing a Go Metro pass are required to take a short one-time survey prior to making their purchase. 

To purchase a transit pass online, please log onto the BruinTAP for Transit portal. You will need an established Bruin OnLine (BOL) account to access the portal. If you cannot access the online system or are having difficulties with your UCLA Logon account, please contact Bruin Online Customer Support at (310) 825-8000 or email consult@ucla.edu. 

After securely logging in, please follow these steps: 

1. Choose the product 

2. Select buy 

3. Choose your payment method* 

4. Click continue and then submit your order 

After your successful online purchase, you will receive a confirmation email. Keep this confirmation as a record of your payment. Please allow four business days for your TAP card to become activated. If you do not already have a TAP card, you may either select to have it mailed to your address or you may pick it up at the Central Ticket Office (CTO) during business hours.

Transit Passes may also be purchased at CTO. For more information, please visit the CTO website.

*Only UCLA staff and faculty with an appointment time of 43.75% or greater and with duration of nine months or more are eligible for payroll deduction. Payroll deduction authorization must be renewed each quarter. 

TAP Card Replacement

If your TAP card has been lost, stolen, or damaged please log onto the Transit Portal to purchase a replacement TAP card for $2.

Once you have purchased your replacement TAP card online, please go to the Central Ticket Office to pick up your card. If you have an active transit pass it will be loaded onto your new card upon pick up.

If you are using a TAP card that was issued by UCLA in 2016 or earlier you will need to order a replacement card to take advantage of the subsidized passes.

Riding Transit During COVID-19 Pandemic

Passenger health and safety are a top priority for transit agencies, and they are taking measures to protect their customers and bus operators. All transit agencies operating on UCLA property are following guidelines set forth by the CDC. They're also modifying routes and schedules to allow for greater physical distancing. Here's how UCLA's transit partners are adjusting their services during this time:

BRUINBUS

BruinBus is cleaning and sanitizing buses regularly. A multi-purpose solution is used to disinfect high touch areas on each bus. Buses are cleaned midday as well as at the end of the day after service has concluded. Hand sanitizer dispensers have also been placed on all buses.

Please check the BruinBus webpage for all service updates.

LA METRO

Metro formed a Contagious Virus Response Task Force and coordinated with the L.A. County Department of Public Health and the Centers for Disease Control and Prevention to create new cleaning protocols. Metro strengthened cleaning at major transit hubs and is continuing to clean its buses and trains at least once daily. They worked with the Transit app to help riders predict peak travel times and avoid crowds. In addition, Metro is producing signage and written materials on what customers can do to reduce the risk of being exposed to the virus. 

Review Metro's updates for the latest information on route schedules and cleaning protocols.

SANTA MONICA BIG BLUE BUS

Big Blue Bus and the City of Santa Monica are closely monitoring developments with the coronavirus in cooperation with the L.A. County Department of Public Health (DPH). They are following guidance from DPH and the Centers for Disease Control and Prevention. Big Blue Bus is continuing to operate a regular service schedule while implementing additional cleaning and sanitizing measures. Specifically, Big Blue Bus is utilizing hospital-grade solutions to disinfect high touch areas on their buses.

Big Blue Bus is currently providing additional service to the UCLA community with Routes 2 and 17.

Check the Big Blue Bus website for guidelines to riding their buses. 

CULVER CITYBUS

In response to the coronavirus, Culver CityBus (CCB) is conducting full-detailed cleaning of their buses every night and disinfecting every hard surface. CCB is doing its part to ensure riders are as safe as possible.  

See how full your next bus is by visiting NextCCBus.org or by using the Next CCBus app. 

LONG BEACH TRANSIT

Long Beach Transit is taking extra measures to help prevent the spread of COVID-19, including enhanced cleaning processes on-board all of its buses. Visit the Long Beach Transit website to see what actions they are taking to prevent the spread of the coronavirus. 

SANTA CLARITA TRANSIT

Santa Clarita Transit (SCT) considers the health and safety of its employees and customers to be of utmost importance and continues to monitor the Los Angeles County Department of Public Health as well as the Centers for Disease Control and Prevention (CDC) for up-to-date preventative best practices for their operators and maintenance staff.

They are currently implementing enhanced cleaning procedures, including additional cleaning of surfaces that experience elevated levels of physical contact such as doors, handrails, armrests, pull chords, fareboxes, etc. Maintenance staff uses hospital-grade disinfectant on all of the aforementioned surfaces daily across our entire fleet. 

For more on SCT protocols and schedule updates, please visit the SCT website.

ANTELOPE VALLEY TRANSIT AUTHORITY 

Antelope Valley Transit Authority (AVTA) has increased the frequency of their cleaning procedures and is using disinfectants known to be effective against viruses. AVTA is also cleaning and disinfecting all surfaces at their bus stop amenities and transportation centers daily. 

Please review the AVTA website for further service updates.

BruinBus

BruinBus provides complimentary year-round service to the UCLA campus and Wilshire Center. Everyone is welcome to board at one of our many stops. BruinBus also offers charter and driver services to UCLA departments and student organizations.

For more information visit the BruinBus page and for current service view the BruinBus route map. Live bus tracking is available on the real-time map or the TripShot app, available for download from Google Play or the App Store. 

Bruin Grad Pass

With the April 2020 passage of the graduate student transit pass referendum, UCLA graduate students have access to the Bruin Grad Pass program, which enables use of all local transit agencies and commuter lines serving campus. Included in your Bruin Grad Pass is unlimited access to all seven transit agencies serving the UCLA campus including Los Angeles Metro bus and rail lines, Santa Monica Big Blue Bus, Culver CityBus, Antelope Valley Transit, Santa Clarita Transit, Long Beach Transit, and LADOT Commuter Express.

Learn more about Bruin Grad Pass and how UCLA graduate students can request one. 

BruinGO! and Go Metro Transit Passes

The BruinGO! transit program allows UCLA students and employees to travel on any bus operated by Santa Monica Big Blue Bus (BBB) or Culver CityBus (CCB) at a subsidized rate. Similarly, the Go Metro transit pass allows unlimited rides on all Metro bus and rail lines, and the Metro Micro on-demand rideshare service for a discounted rate. 

With BruinTap for Transit, UCLA employees and students can purchase both a Go Metro and/or a BruinGO! pass on a TAP card! Occasional riders on BBB and CCB not needing a pass can still ride at a discount with the UCLA Co-Pay.  

If you have not received a subsidized transit pass before, you may qualify for one free quarterly pass for Go Metro and/or BruinGO! through the Bruin Commuter Transit Benefit program.
 

UCLA Co-Pay Option

The UCLA co-pay option for Santa Monica Big Blue Bus and Culver City Bus allows students and employees who aren't regular transit riders to take advantage of a discounted rate.

Here's how to take advantage of the discount:

  1. Purchase the co-pay online for $2.00

  2. If purchasing a new UCLA TAP card, select whether you would like to pick up your TAP card or have it mailed to you.

  3. If you have an existing UCLA TAP card, the co-pay will automatically load within four business days. To begin using it immediately, bring your TAP card to the Central Ticket Office (CTO) to have the card force loaded.

  4. Load funds to your card at CTO, a TAP vendor location, or by calling 1-866-TAPTOGO (1-866-827-8646)

  5. TAP your card when you board and ride for $0.70

Long Beach Transit (LBT)

The UCLA/Westwood Commuter Express Powered by Long Beach Transit offers three commuter buses in the morning and three in the evening Monday through Friday.  

Learn more about the stops, schedules, and how to purchase fares. 

LADOT Commuter Express

Eligible UCLA students and employees can purchase a monthly pass for Los Angeles Department of Transportation (LADOT) Commuter Express buses at a discounted rate. There are currently three direct routes to UCLA: 

    •  Line 431: Westwood to/from Downtown LA 
    •  Line 534: Westwood to/from Downtown LA/Union Station 
    •  Line 573: Westwood to/from Encino  

Learn more about the stops, schedules, and how to purchase fares. 

Santa Clarita Transit (SCT) Commuter Express

Take advantage of convenient routes and schedules on SCT Commuter Express buses (Route 797/792), offering direct service between several Santa Clarita Valley communities and UCLA/Westwood.  

Learn more about the stops, schedules, and how to purchase fares. 

 

Antelope Valley Transit Authority 

(AVTA)

Enjoy direct service between Lancaster/Palmdale and UCLA with quarterly passes for the AVTA Commuter Express bus (Route 786) at a subsidized rate.  

Learn more about the stops, schedules, and how to purchase fares. 


 

EZ Transit Pass

The EZ transit pass is the easy choice for convenience and savings if you regularly ride on two or more transit agencies like LADOT Commuter Express and Metro bus.

UCLA Transportation subsidizes monthly passes for Zone 0 and Zone 1. The monthly pass is good for local travel on 24 different public transit carriers throughout the Greater Los Angeles region.
 

Rider Tips

Most public transit providers operate in the same manner and their services are easy to use if you follow a few simple guidelines.

Make sure you know what bus line you'll be taking. It is quite possible for more than one bus line or service provider to arrive at the stop where you are waiting. Knowing the specific transit provider (e.g., Metro, Santa Monica, Culver City, LADOT) and the route name (e.g., Line 6 Sepulveda Blvd) is important. Be sure to note any special information regarding the route on the schedule, such as express or limited service. 

Have enough cash on hand. Better yet, get a Transit Access Pass (TAP) online through the BruinTAP for Transit portal. Most buses require exact change and may require an additional charge when you transfer to another bus or use an express route. Knowing the entire cost of your trip ahead of time will make it much easier when you board the bus.  

Hail the bus like you would hail a cab. Don't assume that the driver will know you are waiting for their particular bus. Buses do not automatically stop at all posted locations. It is customary to signal the bus just as you would hail a cab. Once aboard, be sure to let the driver know you want to get off before you arrive at your destination. All buses have a cord or pressure strip you can activate to indicate you want to get off at the next posted stop. 

Roll with it. All the preparation in the world can be affected by weather, traffic accidents and other delays. Arrive for your bus at least five minutes before the schedule indicates and be prepared with an alternate plan in case you or the bus is delayed or canceled. If your commute is particularly time sensitive, try riding an earlier bus.

Transit App or Moovit (Trip Planning Apps)
Commute Options
Expo Line Extension