Overview
UCLA Transportation is excited to introduce the Bruin ePermit system where your license plate is your permit.
The Bruin ePermit system works similar to a supermarket scanner with your license plate functioning as the barcode. When read, the numbers of your plate are automatically referenced against the parking database to verify a valid permit for the lot location.
How Does it Work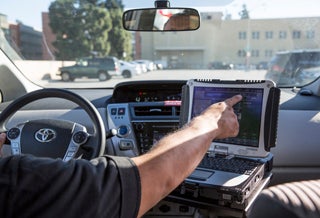 Permit holders will now register their vehicle and pay for their parking permits online through the Bruin ePermit system. Purchasing your permit is as easy as: 
Log in using your UCLA Logon 
Select "Get Permits" from the navigation and then click "Next"
Select the desired permit type
Enter your vehicle's information 
Complete the payment process
How does the Bruin ePermit System benefit me?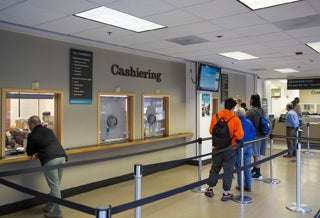 Moving to a virtual permit system offers numerous customer benefits such as:
Eliminating the need to display a hangtag or move hangtags from vehicle-to-vehicle.
The ability to purchase parking permits online.
Eliminating the need to come to the Transportation lobby to pick up parking permits.
Reducing paper, plastic, and resources used during permit production and distribution.
Frequently Asked Questions
The Bruin ePermit system is an advanced parking technology that provides virtual permits through a vehicle's license plate instead of paper permits or plastic hangtags. Bruin ePermits increase parking efficiency on campus, offer convenience for customers, and greatly reduce the amount of paper and plastic waste produced.
University employees and students must cancel their parking permit upon withdrawal, academic leave, or a one-term absence from the University if they paid for parking. A prorated refund will be issued per the published permit fee and refund schedule upon cancellation.
Instructions to Return/Cancel ePermit

1. Visit the Bruin ePermit Portal and click "LOGIN" in the upper right-hand corner.

2. Select "UCLA Logon" and enter your information.

3. Select "Permits" from the top navigation bar. Click on "View Your Permits" from the drop-down menu.

4. Click on the permit you wish to cancel.

5. Click the "Return Permit" button.

6. Click on the "Reason for Return" drop-down menu and select the reason for your return. Then click the "Submit" button to finalize your transaction.
Individuals register their vehicle license plate information into the online parking system when purchasing their parking permits. The Bruin ePermit software then combines this information with the individual's payment and generates a virtual permit linked to that vehicle's license plate number.
Bruin ePermits allow us to eliminate the need for printed parking permits and thus make our parking management system more efficient.