There are over 3,500 free bicycle parking spaces located in racks all over campus. For added security, there are electronic on-demand bike lockers as well. 
Eligible staff and faculty* who commute to campus by biking can receive a Commuter Passport from UCLA Recreation for one quarter and an $85 voucher that can be used at either Helen's Cycles or The Bike Center ($100 total value):
Commuter Passport from UCLA Recreation
  •  Provides access to on-campus showers and/or lockers at the Student Activities Center. ($15 value)

Helen's Cycles Voucher (Santa Monica location only)
  •  Can be used toward the purchase of a bicycle, parts, accessories, and more. ($85 value)
Or
The Bike Center
 Voucher (locations in Santa Monica and Culver City)
  •  Can be used toward the purchase of a bicycle, parts, accessories, and more. ($85 value)
To apply for your Bike Benefits:
1. Register your bike through 
Bike Index
 free of charge.
2. Register using our 
Bike Benefits form
.

Bike Benefits will be sent out via email. For the UCLA Recreation Commuter Passport, you will receive a promo code to redeem at the UCLA Recreation online store. The pass is valid for one quarter.
For more information or questions regarding Bike Benefits, please contact us at transportation@ts.ucla.edu.

*Faculty and staff must have an "active" status in UCPath with an appointment time of 43.75% or more. UCLA-registered students with an active status and a 100% staff appointment in UCPath are eligible for Bike Benefits.
The following bike shops provide an in-store discount for UCLA affiliates who show their BruinCard at the time of purchase. Discounts generally apply to services, parts, and accessories. Bicycles are excluded. Please check with each shop for specific exclusions.
Helen's Cycles
(Santa Monica location only)
10% off parts and accessories. Excludes Garmin GPS and bicycles.
The Bike Center
(Santa Monica location only)
20% off parts, accessories, and repair services. Excludes bicycles.
UCLA offers a variety of bike classes, ranging from safety basics to earning the League Cycling Instructor (LCI) certification. Classes are updated on our
Bike Classes page
as they become available.
Whether you are biking on campus or around the Los Angeles area, the maps below include bike routes and lanes that can help you plan a safer commute: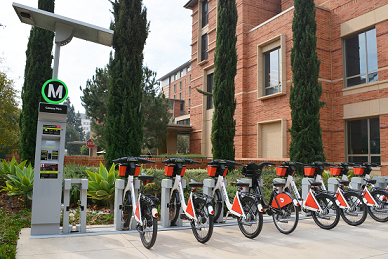 Metro Bike Share
is the regional bike share system managed by LA Metro.
UCLA has three docking stations on the main campus at Gateway Plaza, Perloff Hall, and Drake Stadium, as well as stations at Weyburn Terrace graduate student housing, University Village Apartments graduate student family housing, and the
UCLA Santa Monica Medical Center
.
Bikes can be unlocked with the Metro Bike Share app or with a TAP card if you're enrolled on the TAP website. Students are eligible for discounted passes through the Reduced Fare program and can enroll for a reduced fare TAP card.
For the occasional ride Metro offers a 1-ride or 24-hour pass, and for more regular riders there are monthly and yearly passes.

More information can be found on the Metro Bike Share website and at the links below:

•  Regular Pass Pricing
•  Discounted Student Pricing
•  Download the Metro Bike Share App
•  View Station Map
BikeLink Lockers are available in the following locations:
•  Parking Structure 7 - south end of level 1, row 5, near the stairs leading to Pauley Pavillion
•  School of Medicine - off Westwood Plaza, between the 700 Westwood Building and the Reed Neurological Research Center 
•  Parking Structure 5 - south end of the level 4 stairs leading to Royce Drive
•  Powell Library - southeast corner near the Powell Study Court
•  Schoenberg - east of the Inverted Fountain in the bicycle and motorcycle parking area

How they work: 

•  Locker rentals are a few cents per hour 
•  Lockers are accessed by a BikeLink card 
•  BikeLink cards can be purchased online or by phone directly from BikeLink. 
UCLA Transportation has a high-security bike rack system at Bunche Hall. The Bikeep racks are designed to be a stronger theft deterrent compared to traditional U-locks. For more information visit Bikeep.com. 

•  Free to use 
•  Racks are available on a first come basis 
•  Continuous parking is limited to 24 hours 
•  The smart rack system requires downloading the Bikeep app
•  Racks can then be locked and unlocked through the use of the Bikeep app 
DIY Bike Repair Stands at UCLA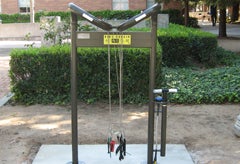 There are seven do-it-yourself bike repair stands on and around the UCLA campus. They are located at:
•  
Strathmore Building
•  
Lu Valle Commons
•  
Between 100 and 200 Medical Plazas
•  
Sunset Canyon Recreation Center (Entrance)
•  
John Wooden Center (West)
•  
Schoenberg Music Building (South)
•  
Lot 38/Hammer Museum (Parking Structure)
More specific locations can be found on the
UCLA Bike Shop page
 under Public Workstations.
Each repair stand offers an air pump and basic tools to keep your bike in great shape, including Phillips/Flat-Head Screwdrivers, 15/32mm Combination Wrench, 8/9/10/11mm Combination Wrenches, Tire Levers, Torx Wrench and Allen Wrenches.
Check out our infographic below for more details about the tools on our bike repair stands.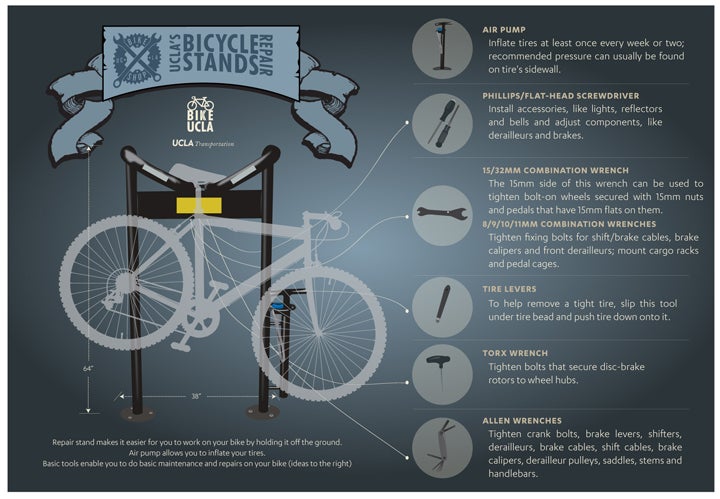 How to Keep Your Bike Secure

Always lock your bicycle: Most thefts can be prevented by using an adequate lock and properly securing the bicycle to an approved parking facility such as a bicycle rack. It is best to lock the frame and wheels by using a U-Lock and a six-foot cable or chain.

Record your bike's ID: Write down the unique manufacturer's frame number. You will find it stamped on your bicycle frame. Store it in a safe place along with a photograph of your bike.

Immediately report a bicycle theft: If your bicycle is stolen, report it immediately to UCPD. You will need to complete a police report that specifies the location where the bicycle was parked and whether it was licensed.

Retrieve an impounded bicycle: If your bicycle was parked illegally or chained to a pole or railing, or if it appears to have been abandoned, it may have been impounded. To retrieve your bicycle, contact Citation Review and Adjudication at the number below. Stay aware of bicycle safety tips: View cycling safety tips at the City of Los Angeles Bicycle Services.
Registering your bike creates an "ownership paper trail"—valuable documentation that improves the chances of recovering a stolen bike, wherever it is found. Register your bike through the
Bike Index
free of charge.
Bicycle Regulations
1. It is illegal for cyclists under the age of 18 to ride a bicycle without a helmet. However, safety matters at every age. We always encourage everyone to wear their helmet for protection. · Always lock your bicycle on approved bicycle racks positioned throughout campus.
2. Do not park, or lock, your bicycle in any of the following pedestrian areas (Note: If a bicycle is parked in violation of this rule, it will be impounded, and the owner will be subject to penalties and fees):
  •  Pedestrian pathways or passageways
  •  Poles or hard rails such as those on or near stairways and walkways
  •  Individuals with disabilities Access Ramp
3. Bicycle riders must obey all stop signs, traffic signals and other traffic signs.
4. Always remember to give pedestrians the right of way.
5. It is illegal to operate a bicycle while under the influence of alcohol or drugs.
6. Abandoned bicycles may be subject to impound. View the CA Vehicle Code regarding the operation of bicycles.
View the
Campus Vehicle Code Section 21113, CA Vehicle Code
, and
campus permitted pathways map
.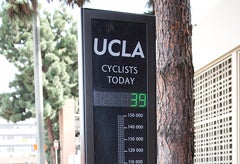 UCLA Transportation is proud to present the campus' automated bike counters. One is located on the southern side of Strathmore Place next to the green bike lane, and the other is next to the northbound bike lane on Westwood Plaza near Le Conte Ave. The counters display the number of daily bicyclists and annual bicyclists who pass it. Similar bike counters have been installed in bike-friendly cities such as Portland, Seattle, and Copenhagen.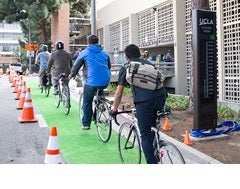 The counters are one of many bike infrastructure improvements that are intended to make UCLA a more bike-friendly campus. UCLA is proud to be the first in Los Angeles to install automated bike counters. While the counters provide real-time ridership information, they also serve as welcoming gateway signs, and bicyclists can see that they're part of a larger community.

The counters are manufactured by Eco Counter, an international company that specializes in pedestrian and bike counting systems. The counters were funded by The Green Initiative Fund and UCLA Transportation. 
Data from the bike counters is available through these links:

    •  Strathmore Bike Counter
    •  Westwood Bike Counter