What is Ride-Hailing?
Ride-hailing includes a wide range of companies and services, such as Lyft, Uber, and traditional taxis that offer door-to-door transportation. 
Ride-Hailing Pick-Up Zones
UCLA Transportation has partnered with Lyft and Uber to designate on-campus passenger pick-up zones to prioritize pedestrian and bicyclist safety and improve traffic flow and reduce traffic impediments. Pick-up zones are active 24 hours a day, seven days a week. Learn more in our Ride-Hailing Pick-Up Zones FAQ.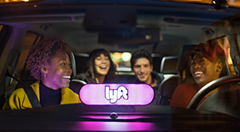 UCLA x Lyft
Lyft is now a contracted ride-hailing provider for UCLA. This enables schools and departments to work with Lyft to set up transportation programs that support your university travel needs. Learn more about how departments can utilize Lyft for official business.