Traveling to LAX or beyond?
Whether you're going on vacation, traveling for work or heading home for the holidays, there are several transportation options available to you at UCLA that are easy on the environment and on your wallet.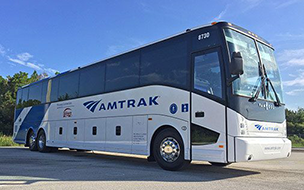 Amtrak Thruway Shuttle Service
Amtrak Thruway service is a dedicated bus connection to the Van Nuys or Bakersfield Amtrak stations. UCLA students can also receive a 15 percent discount off best available Amtrak fares.
FlixBus: Enjoy Comfortable Bus Travel in the US
FlixBus now offers affordable and comfortable bus travel on the West Coast! Travel onboard green buses to explore cities like Los Angeles, San Diego, Las Vegas, Phoenix and many more. With unbeatable prices, comfortable seats and free Wi-Fi, traveling by bus has never been easier. Enjoy a stress-free ride thanks to a simple booking process, conveniently located bus stops and experienced drivers that will bring you safely to your destination.