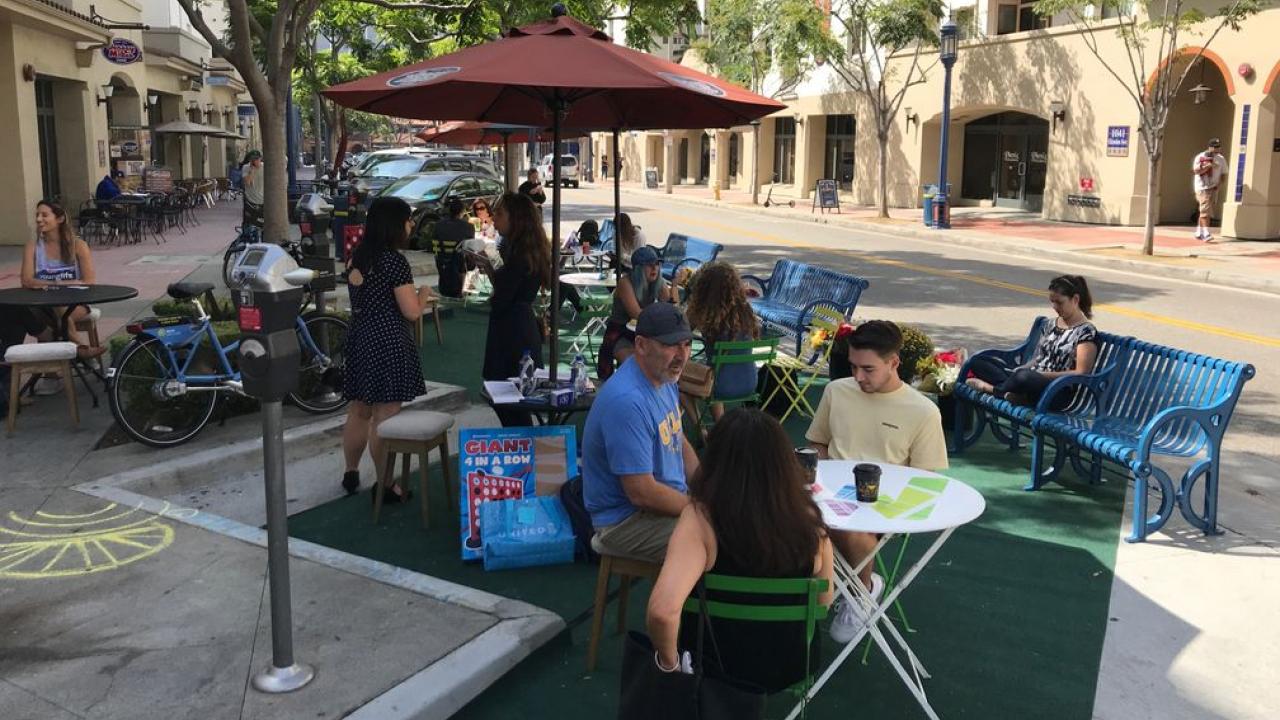 The North Westwood Neighborhood Council, the neighborhood committee representing Westwood Village and UCLA for the Los Angeles City Council, just voted to support a project that will turn a few parking spaces into a small park.
A nonprofit organization, the Westwood Village Improvement Association (WVIA), came up with the plan.
The Glendon Avenue Parklet project aims to remove four parking meters in front of a coffee shop on Glendon Avenue and turn the area into a parklet. A parklet is a sidewalk extension that removes roadside parking space to create a more active, inviting people-oriented place. Parklets introduce new streetscape features such as seating, planting, bicycle parking and other recreational elements.
Public spaces like this can calm traffic, encourage walking and bicycling, increase safety for pedestrians and others using the sidewalk and street and support economic vitality. The project plans to move meters and add seating and other amenities for people in their place. Parking likely won't be impacted since there is a multi-level parking structure near the location.
Last fall the parklet concept got a test run when UCLA Transportation partnered with the UCLA Healthy Campus Initiative and WVIA on Park-ing Day, temporarily transforming the space into a pop-up mini-park with lounge areas and games.
Since receiving approval by the neighborhood council, the project has been submitted to the City of Los Angeles Department of Transportation (LADOT) People St program, which partners with communities to transform underused areas into accessible public spaces.
A collaboration between LADOT, the City of Los Angeles Departments of Public Works and City Planning, the Office of Mayor Eric Garcetti and LA Metro, People St expedites project development and implementation with a clear, consistent process. People St has already installed parklets in Highland Park, Downtown L.A., and the Palms area.
The Glendon Avenue Parklet application awaits review. If approved, WVIA becomes responsible for maintaining and operating the parklet. The association plans to fund the project with help from businesses and other Westwood stakeholders and will seek community input for the design. Installation is anticipated to take between six months and a year.
UCLA active transportation planner Jimmy Tran said, "A permanent parklet in Westwood Village makes sense as the City of Los Angeles is moving towards being a leader in sustainability. Adding one parklet may seem small, given the how park poor the City is, but it is still a big feat."
He continued, "This decision signals to the larger Westwood community that Westwood Village is making progress in prioritizing the well-being of people over parking."