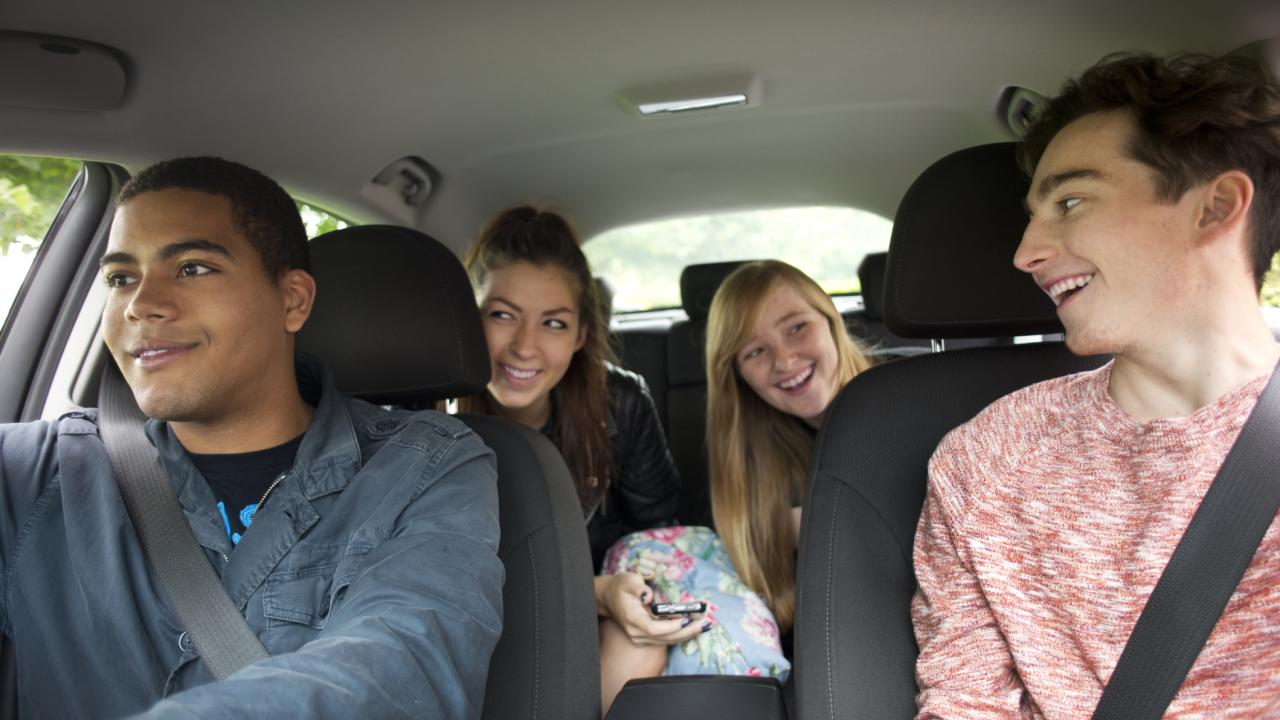 The application period for student parking permits opens this Friday, January 20. Instead of applying for a single-occupancy vehicle (SOV) permit, apply for a two- or three-person carpool permit and you'll be guaranteed parking!
That's right! If you apply for a carpool permit and meet all the eligibility requirements, you are guaranteed a parking permit! Plus, you'll save time and money on your commute.
Here's the breakdown: A Commute Student Permit costs $237 per quarter and a Residence Hall Permit is even more at $297 per quarter. With a two-person carpool, you'll pay $195 per quarter, divided by two people, and with a three-person carpool, you'll be splitting $117 three ways.
Start by using Zimride to search for existing carpools to join, or form you own!
To guide you in your search for the perfect carpool partner, here are the perfect questions to ask:
1. Who's driving?
If you're not an early riser, make sure to ask your potential carpool partner about their driving preferences. If both you and your partner(s) would like to drive, you may want to implement a rotation system where the responsibility can be shared.
2. Which route is the most convenient?
For some individuals, local streets are the way to go. Yet for others, the freeway may be the best option. Always make sure to find a happy medium because you never know if your partner(s) may know of a shortcut to work that can help you cut your commute time in half.
3. Where will the pick-up location be? What about drop-off?
For many, this question could be the deciding factor as to who may be your future carpooling partner. Carpools always work best when your pick-up zones are in close proximity. If for some reason your pick-up locations aren't nearby, consider meeting at a public spot like a grocery or department store parking lot. Just make sure there aren't any parking restrictions.
4. How long should the driver wait at a stop for passengers before leaving?
While it is important to note that sudden emergency situations are inevitable sometimes, as a carpool partner, it is just as important to be mindful of the fact that the schedule of your carpool partner cannot be altered according to your emergency. Make sure to always set a time limit that is comfortable for you and your partner in order to help dodge any future conflict.
5. What are the schedules of all carpoolers?
Do you and your carpool partners' schedule align with one another? How early do the both of you need to be on campus? These two questions could really make or break your decision.
If your days end at different times, always consider utilizing more than one transportation mode for your commute (i.e., carpooling to campus and taking public transit back home).
6. What kind of music do you prefer?
You may like to start off your mornings with some of Beyonce's "Drunk in Love," but that doesn't necessarily mean your partner does. If music isn't the preference, you and your partner can also listen to news, podcasts, or even audio books. Come to some kind of agreement that will make your daily commute something to look forward to.
7. Is eating in the car okay? What about smoking? Will coffee drive-thru stops be scheduled?
Never automatically assume your carpool partner shares the same preferences as you do. Be mindful of the fact that this may not be your car, and even if it is, always remember to clarify what is and isn't allowed in each vehicle to avoid conflict.
8. How will the costs be calculated? Cash or Check?
Will payments be made on a per ride basis or a weekly or monthly basis? Is cash preferred? Will the cost of the parking permit and gas be split evenly? What about maintenance fees? Use the AAA guide to determine cost, and this process will be way easier than you anticipated.
9. What will happen during long vacations? What about sudden illnesses?
Make sure you have back-up plans in place in case the driver is unable to host the pool that day. If you have multiple carpool members, assign a backup driver. If not, keep a TAP card with some funds in hand for those days when you have to ride the bus to campus.
Photo Credit: Getty Images