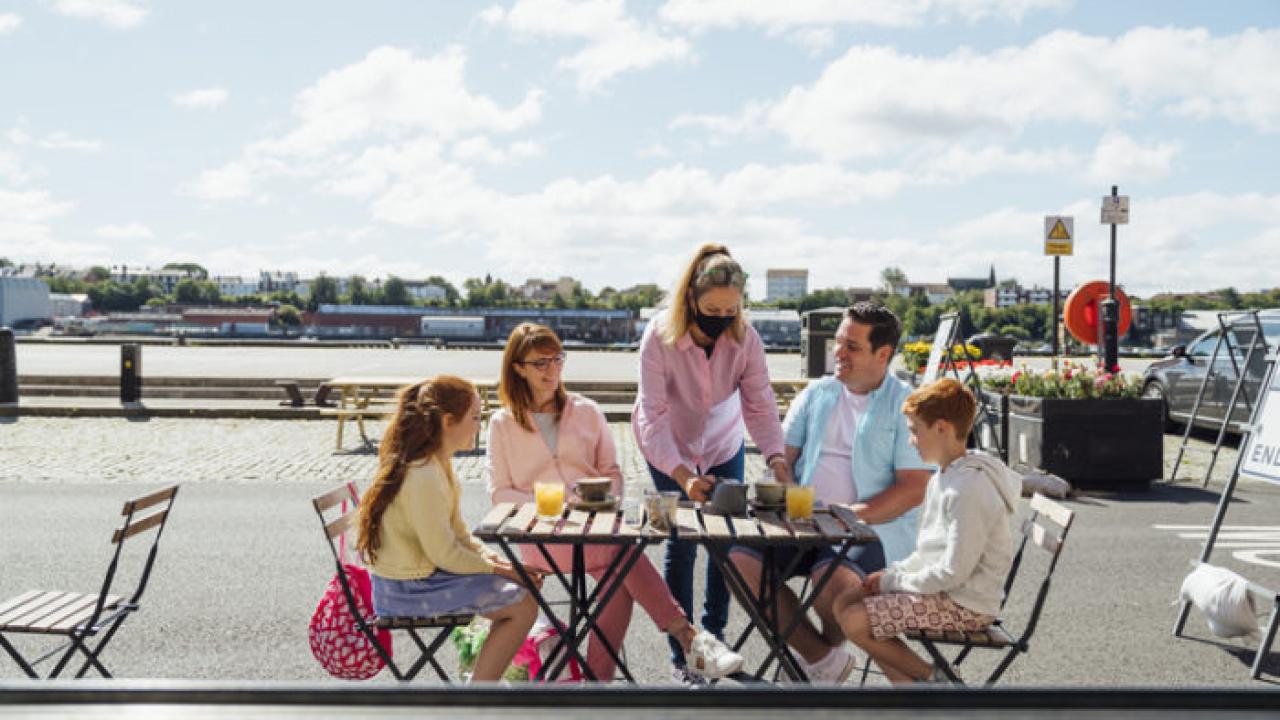 As you help to clear the air with sustainable transportation choices, where might you see other inspirations on how we can improve our air? Look no further than the parking spaces occupied with tables and chairs by your favorite restaurant.
These mini-parks or parklets have become popular in cities across the world given their flexibility to extend sidewalks, provide additional outdoor dining, or serve as an outdoor lounge. They take different forms but often comprise of wooden decks, planter boxes, and lightweight outdoor furniture.
The transformation of on-street parking spaces into parklets have been made popular in many city downtown commercial districts in part due to Park(ing) Day, a global event where on-street parking spaces are converted into public places for community members to enjoy. Last year, we transformed three parking spaces in Dickson Court into a temporary park with games, refreshments, and activities led by the Semel Healthy Campus Initiative Center at UCLA.
This year, parklets serve primarily as a resource for businesses impacted by COVID-19 and a glimpse into how cities can use this asset to make their cities greener. As part of their economic recovery efforts from COVID-19, cities in the U.S. are expediting the process of allowing parklets to create more outdoor dining spaces. The City of Los Angeles has taken this process a step further with its Al Fresco program, which enables eligible restaurants to expand dining areas into parking lanes, driving lanes, and private lots adjacent to restaurants.
Parklets while often temporary in implementation, foster the policy framework necessary to add permanent public spaces back into the community. While parking is still a valuable infrastructure, investing more parking spaces towards the creation of outdoor spaces and sustainable transportation can serve communities and indirectly ease the carbon footprint tied to cars. Much of our urban environment is dedicated to the parking; in Los Angeles County that's nearly 6 million spaces or 14% of incorporated land. It's a well researched, yet oft-misunderstood topic. Researchers point to the environmental impacts of providing and maintaining abundant parking that includes a reduction in water quality due to urban runoff and the emissions of air pollutants like sulfur dioxide and particulate matter. Parking spaces alone aren't dirtying the air, but their availability can encourage more driving, and in turn create more demand for parking. In this vicious cycle, our clean air stands to lose.
More parklets can equate to more places for people and fewer spaces for cars, which is a small but important role in the effort to clear the air. If it's safe to do so, try walking, biking, or taking transit to a parklet near you.
Photo Credit: Getty Images