With more than 80,000 people on campus on any given day, keeping UCLA's roadways safe for everyone is a top priority. UCLA Transportation and Facilities Management continue to make improvements to campus infrastructure to enhance safety for pedestrians, cyclists, scooter riders, and all other active transportation users.
To prioritize pedestrian safety, new stenciling and signage have been placed on Bruin Walk and Bruin Plaza, emphasizing them as campus dismount zones. Dismount zones are where all wheeled devices must be dismounted and walked to reduce collisions between pedestrians and people riding scooters and bikes. Stenciling is located at the west entrance to Bruin Walk adjacent to The Hill, and the north and south entrances to Bruin Plaza. In addition, signage featuring the iconic Joe Bruin is located at the four main entrances to Bruin Walk and Bruin Plaza.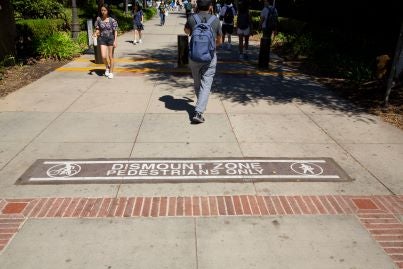 For people on bikes and other wheeled devices, UCLA Transportation continues to expand bike infrastructure on campus. New infrastructure for cyclists includes a bike lane on Charles E. Young Dr. S behind the Ronald Reagan UCLA Medical Center. Speed cushions have also been installed on Strathmore Pl. to reduce the speed of drivers without impeding emergency vehicles. Since the installation of the speed cushions, eastbound vehicle speeds have been reduced by 5% and westbound vehicle speeds have decreased by 22%.
Planned safety improvements include expanding the curb at the northeast corner of Charles E. Young Dr. S and Westwood Plaza to give pedestrians more space. UCLA Transportation is also supporting Facilities Maintenance in restriping the bike lane on Westwood Plaza, increasing its visibility to drivers and improving safety for people riding their bikes and scooters.
"UCLA Transportation continues to work towards improving safety on campus, such as reducing vehicle speeds and enhancing infrastructure for people walking, biking, or riding a scooter," said UCLA's senior active transportation planner Emily Han. "These initiatives support the campus' goals as outlined in the UCLA Sustainability Plan and Active Transportation Plan."
Upgrades already implemented include a leading pedestrian interval at the intersection of Charles E. Young Dr. S and Westwood Plaza, allowing pedestrians to enter the intersection first and increasing their visibility to drivers. Bump outs have also been added to three curbs along Westwood Plaza, increasing space for pedestrians waiting to cross, and retroreflective red vinyl has been installed on 37 stop signs throughout campus to improve sign visibility to drivers.
Bruins are also encouraged to do their part in keeping themselves and others safe. In addition to observing the dismount zones, UCLA scooter guidelines should be followed, such as riding on surface streets and staying off pedestrian walkways and out of crosswalks. Scooters should always be parked respectfully in designated locations that do not block doorways, staircases, or other pathways. And when operating any wheeled device, helmets are strongly recommended to better protect riders from injury.