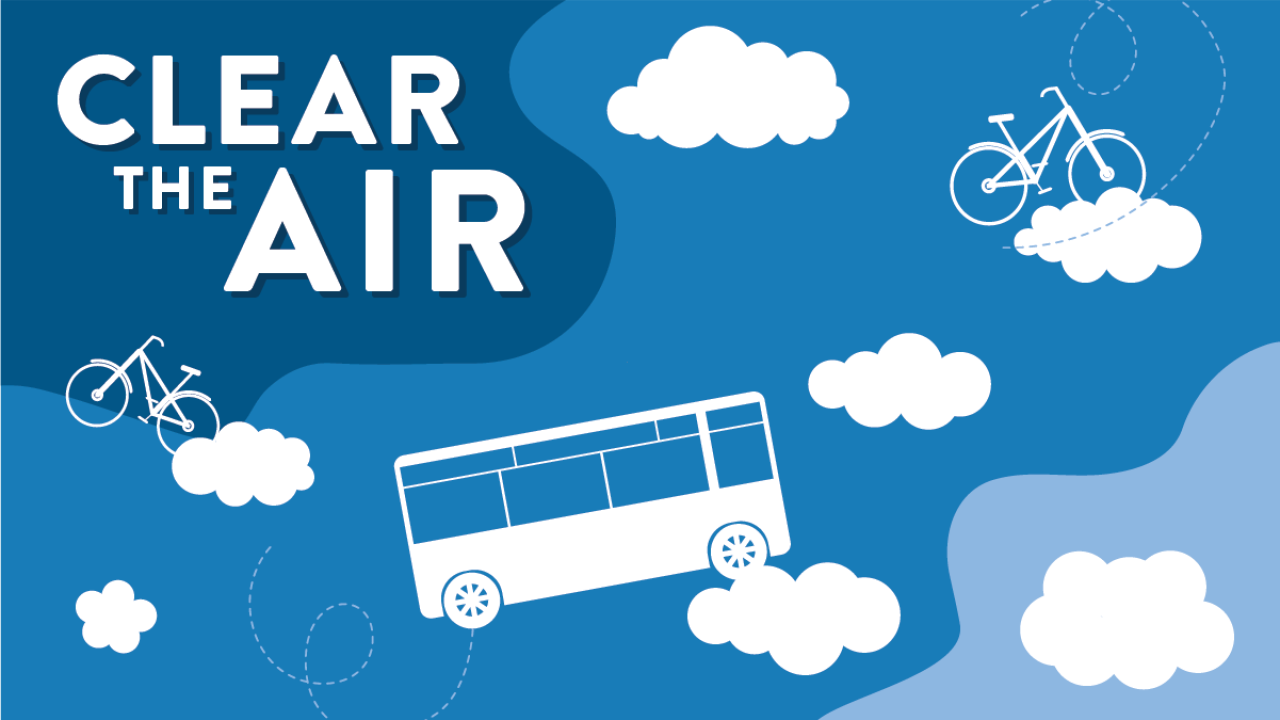 Clean air is essential for our health and the health of the environment. Coinciding with the 3rd Annual California Clean Air Day on October 7, this month marks the launch of Sustainable Transportation Month at UCLA, an initiative to get Bruins engaged in greener ways of commuting.
The campus community, while spread out across different locations, can still come together for both occasions to protect public health and the planet and take action to improve air quality.
Transportation is the biggest source of air pollution in California, about 40% of the state's total. For a brief period in the spring, California experienced some of the clearest skies in the country. But since the summer, the state is back to some of the worst air in the nation. Walking the walk for clean air is easy, and can start by reducing vehicle emissions.
This Clean Air Day, and for Sustainable Transportation Month, help everyone breathe easier and walk, bike, or take transit to your destination.
Personal transportation choices can make a big difference. When you leave the car at home just two days a week, you reduce harmful carbon dioxide emissions by 1,600 pounds a year.
For your next short excursion, ditch the car for walking shoes or a bicycle. Reducing vehicle miles traveled by walking or biking reduces greenhouse gas emissions. Pollution-free modes of transportation bolster personal health and the health of the community, clearing the air and cutting down on traffic noise.
Riding the bus and rail is also an environmentally friendly way of getting where you need to go, especially for long journeys. Public transportation moves more people in fewer vehicles, reducing the amount of pollutants entering the air. Transit also helps reduce congestion, which reduces emissions from cars stuck in traffic. The local transit agencies serving UCLA — LA Metro, Santa Monica Big Blue Bus, and Culver CityBus — all operate low and zero-emissions buses, furthering clearing the air. And in a few years, Long Beach Transit will run a zero-emissions electric battery bus for its commuter line that connects the city to UCLA and Westwood.
Creating new transportation habits impacts air quality. When you leave the car behind and walk, cycle, or take transit, you'll feel physically and mentally better, save money, and avoid getting stuck in traffic. Don't "miss the bus" this Clean Air Day — catch a ride on Culver CityBus for free on October 7.
Air quality affects everyone so tag a friend to raise awareness about Clean Air Day on our Facebook, Twitter, or Instagram for a chance to win a prize like a $25 Alfred Coffee gift card!