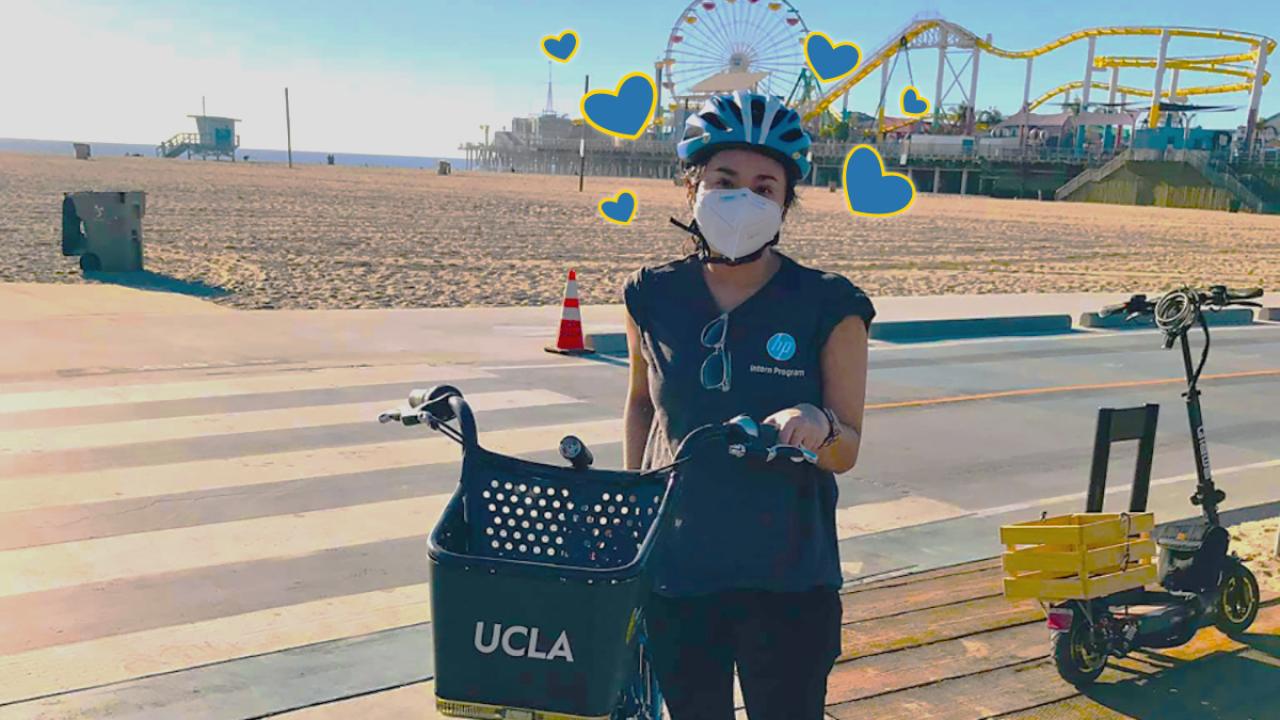 Biking got a lot of love this past year. And it's not hard to see why people became smitten with cycling. There's a reason this physical activity has devotees up and down the block — it legitimately lifts your spirits! Riding a bike boosts your mood in the same way exercise makes you feel good: by influencing the release and uptake of chemicals in your brain that trigger happy, positive feelings.
John F. Kennedy did say, "Nothing compares to the simple pleasure of a bike ride."
With Valentine's Day right around the corner, four Bruins, a neurologist, a digital humanities specialist, and two graduate students share why they enjoy two-wheeling.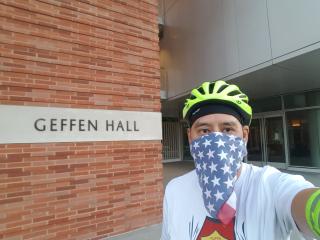 Dr. Christopher Giza, UCLA Health
Biking, like love, feels simple and natural, gets you to new places, and strengthens your heart and your mind.
When I started biking in Los Angeles, it felt like a combination of struggle and stress. As I got more fit the physical struggle turned to fun. And as I got more experienced and comfortable riding on streets and picking my routes, the stress turned into freedom.
Annelie Rugg, Humanities Technology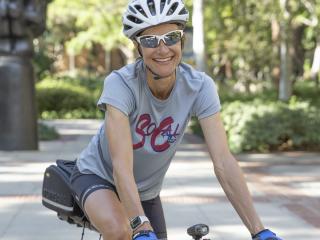 One of the things I love about biking is the connection you make with the community in which you ride. The pace of cycling allows us to notice what is going on in our neighborhoods and we often get to know people we see on our regular routes. It creates a sense of belonging and being part of a community.
Trinny Tat, Department of Bioengineering
The kickoff of the free Graduate Student Bike Rentals allowed me to add biking to my list of exercises during the quarantine. Biking has been such a blessing to my life because I have gotten bored with doing cardio in my apartment every day. Not only that, I can spend time with my friends while being physically-distanced, and I can visit several trendy LA spots in an environmentally friendly manner. I have been using the bike rental weekly and needless to say, will continue to take advantage of this wonderful resource.
Kimberly Venegas, Department of Urban Planning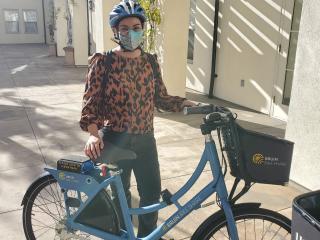 My friends and I love borrowing one of the free rental bikes in our graduate housing and riding it to Sawtelle Japantown, Beverly Hills, the beach in Santa Monica, and other places together. It's a great way for us to hang out while physical distancing and explore the city, get some fresh air, and get some exercise. Personally, biking is my favorite form of exercise. I don't really notice that I am working out when I'm riding a bike — which is hard to say for running and lifting weights. 
Image: Graduate student Trinny Tat using the Graduate Student Bike Rentals at the beach in Santa Monica.