UCLA has released it's annual State of the Commute report for 2019, which highlights the University's efforts to maintain sustainable transportation programs, analyze recent commute trends, and highlight notable achievements.
Among them was a further reduction in the employee drive-alone rate to 47.9% and the overall campus drive-alone rate to 36.3%, a record low. With LA County's drive-alone rate at 74%, UCLA commuters are far less likely than fellow commuters in the county to travel alone in their automobile, and instead use sustainable transportation modes at a higher rate.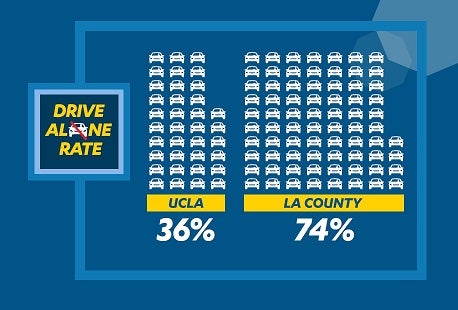 The campus' sustainable transportation options were bolstered in 2019 with a new commuter line from Long Beach. The UCLA/Westwood Commuter Express Powered by Long Beach Transit provided three arrivals and three departures each weekday, with free parking at the two Long Beach stops. Shared-use mobility options were also enhanced by partnering with Lyft, Bird, and Wheels to provide electric scooters and bikes to the UCLA campus.
Parking for 23,000 permit holders became more convenient with the introduction of the Bruin ePermit system, which allows commuters and guests to purchase parking online. Not only does the virtual permit system save time and money, it's also good for the environment by eliminating nearly 30,000 plastic hangtags and saving 1,500 pounds of paper annually.
2019 was also a banner year for awards as UCLA Transportation was recognized with seven honors. They included being named Innovative Transportation Organization of the Year by the National Parking Association, and receiving Bicycle Friendly University Gold status from the League of American Bicyclists.
For more on UCLA Transportation's accomplishments in creating a sustainable, safer, and healthier campus community, read the full 2019 State of the Commute report.