The League of American Bicyclists has awarded UCLA the Gold Bicycle Friendly University designation for its achievements in promoting and enabling safe, accessible bicycling on campus. This prestigious honor from the oldest national advocacy organization for cyclists places UCLA in the top 15% of the national rankings.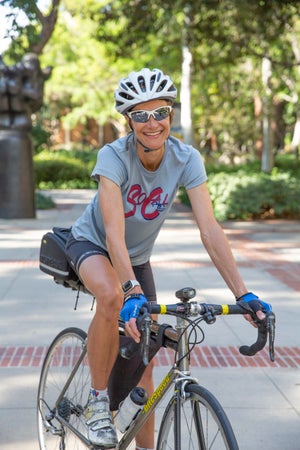 The UCLA campus has over seven miles of bike routes, hundreds of accessible bike racks and lockers, and a bike shop. Since receiving a Silver designation in 2015, UCLA has worked diligently to encourage bicycling through improvements to campus infrastructure and amenities offered.
In 2016, UCLA Transportation introduced the successful Earn-a-Bike program that offers eligible employees and graduate students a free bike in exchange for their parking permits, and BruinBikeSmart, an award-winning citation diversion program for University cyclists. In 2017, UCLA Transportation launched Bruin Bike Share with 130 bikes located throughout campus, and joined the bike share systems of Santa Monica and Beverly Hills to form Bike Share Connect the following year. Recently, the University added two additional miles of designated bike lanes and lowered the campus speed limit to 20 miles per hour to make the campus roadways even safer for its bicyclists.
"There is a lot of support on campus for cyclists," said Annelie Rugg, Director and CIO of UCLA Humanities Technology, who has used her bike to commute to campus for the past 25 years and is one of nearly 3,000 riders using a bicycle in lieu of a motor vehicle. "The University offers equipment, helmets, and repair stations around campus, and is getting better at providing more designated spaces for cyclists to travel safely and with more visibility."
As UCLA Transportation continues to optimize the campus environment for people instead of cars, the department will implement objectives from its 2019 Active Transportation Plan which outlines policy and infrastructure initiatives to increase biking and other forms of active transportation. To learn more about how UCLA became a Bicycle Friendly University, click here.