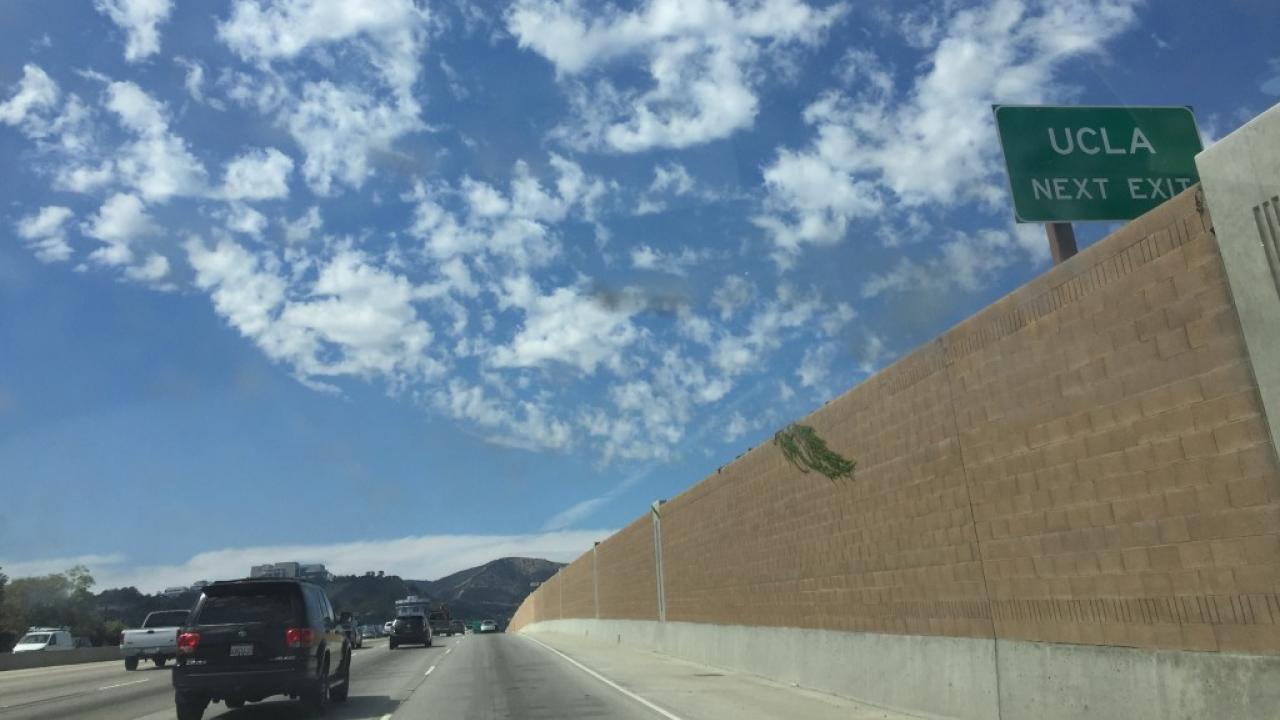 There's no reason to let a little distance come between a commuter student and an authentic college experience.
You may not be residing on the Hill or in Westwood's Weyburn Terrace—with Diddy Riese cookie sandwiches nearby—but that doesn't mean UCLA can't feel like home.
To start off your year, link up with fellow travelers at a commuter meetup hosted by the UCLA Bruin Resources Center and UCLA Transfer Student Center on Sunday, September 24. The afternoon of community building will begin at the Bruin Bear and conclude with a dinner and party in Westwood.
Live the Bruin life by checking out all the ways you can get that True Bruin experience.
Get Involved
Finding a niche within the Bruin community is one of the best ways for a commuter student to feel engaged with the campus.
UCLA has one of the most active programs of extracurricular student activities in the nation, with over 1,000 organizations for undergraduate and graduate students. Seek out an activity that speaks to a passion or gets you excited.
Undergraduates can find out about these groups at the Enormous Activities Fair planned for September 26 and for new graduate students there's the Graduate Student Orientation scheduled for September 19.
Commuters can exercise that Bruin spirit with a UCLA Recreation membership. Purchase a fitness pass or play on an intramural sports team. Recreation has tons of classes and activities every quarter.
Public service is part of the University's mission and volunteering is more than a noble pursuit—it's a great way to spend time with likeminded Bruins. View opportunities through the UCLA Volunteer Center website. There are also many student clubs devoted to community service.
Seek out Resources
At UCLA Transportation we offer many programs, promotions and free benefits   for student commuters, and we'll help you find the most convenient and affordable way to get to campus. Students who use alternative transportation such as transit, biking or carpooling can join our Bruin Commuter Club, which provides even more incentives like free Zipcar hours, discounted daily parking and emergency rides home.
Get Social
Stay connected to campus by following UCLA's social media accounts (Facebook, Twitter and Instagram). The social media channels provide regular updates about University news and happenings. And don't forget the traditional avenues for campus information: Read the Daily Bruin and tune in to UCLA Radio.
Enter the Fan Zone
Support your team! With so many men's and women's athletic programs ranging from basketball and football to gymnastics and water polo there's a sporting event everyone can do an Eight-Clap for.
Work it Out
Clock in time on campus by working for UCLA. A campus job is a good way to earn money, make friends and hang around University grounds. Parking Services is currently hiring and for more job listings visit the UCLA Career Center's BruinView website. Most campus employers (including us) are willing to work around a student's schedule.
Start a Conversation 
The best way to get to know UCLA? Interact with the campus population! Chat up a classmate and form a study group. Next caffeine refill at Kerckhoff or Jimmy's, talk to someone in line. Banter with other BruinBus passengers at the stop or while you ride around campus. Remember, no matter where you are coming from every student arriving at UCLA is part of the class of optimists.