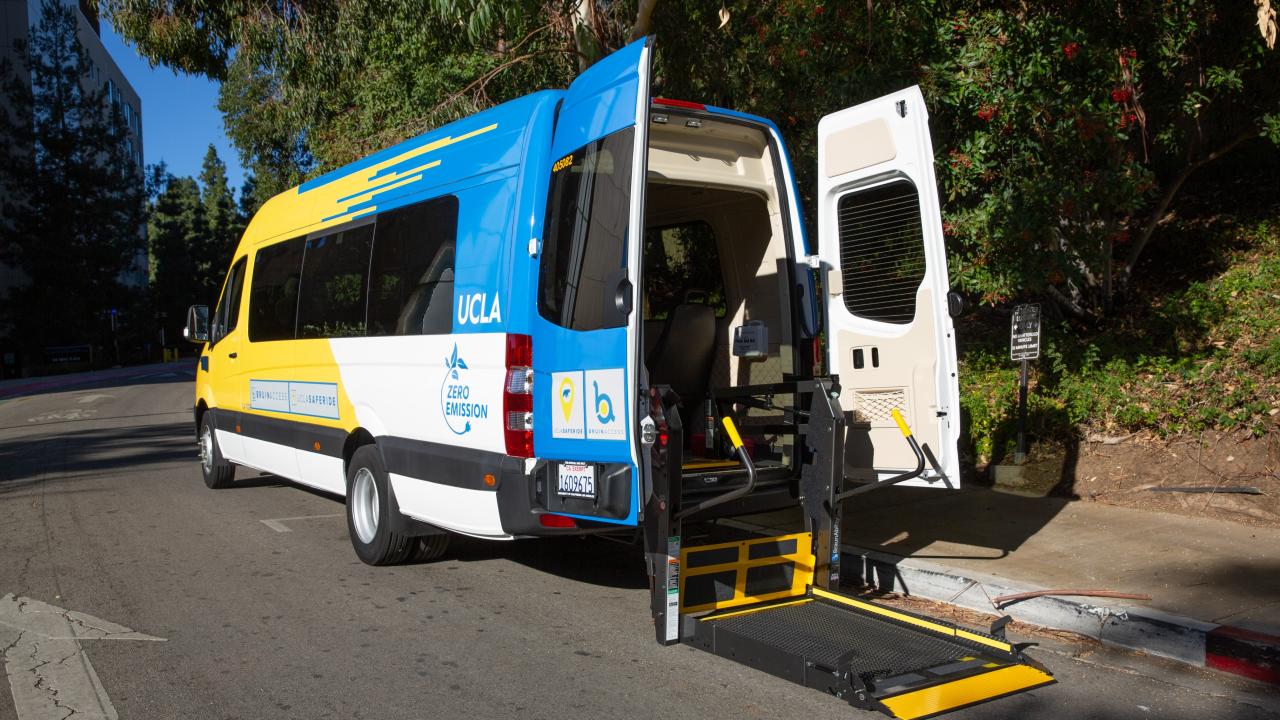 Transportation is an essential service. And when it comes to providing ways for students to navigate the campus, the university is committed to having an inclusive system with options for all Bruins. BruinAccess and UCLA SafeRide are two such services, provided at no cost all year long, to help every Bruin get around campus.
Offered by UCLA Transportation for pre-qualified Bruins in partnership with the UCLA Center for Accessible Education (CAE), BruinAccess is a complimentary paratransit service that provides on-demand curb-to-curb rides from most points within and near campus. 
The BruinAccess van is wheelchair accessible, with two ADA positions, providing a comfortable ride for passengers. Students pre-approved by CAE to use the service can ride during academic weekdays from 7:30 a.m. to 6:00 p.m. Rides can be booked using the TripShot app. Seats are filled on a first-to-respond, first-served basis.
Students who require service regularly can make multiple or standing reservations ahead of time through a customer service representative.
ADA compliant UCLA SafeRide offers safe, reliable evening transportation between campus buildings, on-campus housing, and nearby residential areas at no charge.  
A Safe Loop runs continuously at several different stops Monday – Friday from 6:30 p.m. to 10:30 p.m. On-demand rides can also be requested using the TripShot app Monday - Thursday from 7:00 p.m. to 12:00 a.m. 
Also ADA compliant and wheelchair accessible is BruinBus. With multiple routes around UCLA and into Westwood Village, BruinBus serves the campus community year-round, transporting close to a million passengers annually.
Information on BruinAccess, UCLA SafeRide, and the other parking services and transportation programs offered are regularly shared through various channels. These include the UCLA Transportation website, blog, and social media platforms. Advertisements are posted around campus and have appeared in the Daily Bruin.
Department presentations and outreach events like Bruin Day, Residential Life's Meet the Hill, and the department's own Sustainable Transportation Month further seek to reach students.
BruinAccess and UCLA SafeRide have remained available and fully operational during the pandemic. Getting Bruins where they need to be is what UCLA Transportation is here for – and to accommodate the different mobility needs of our campus community.