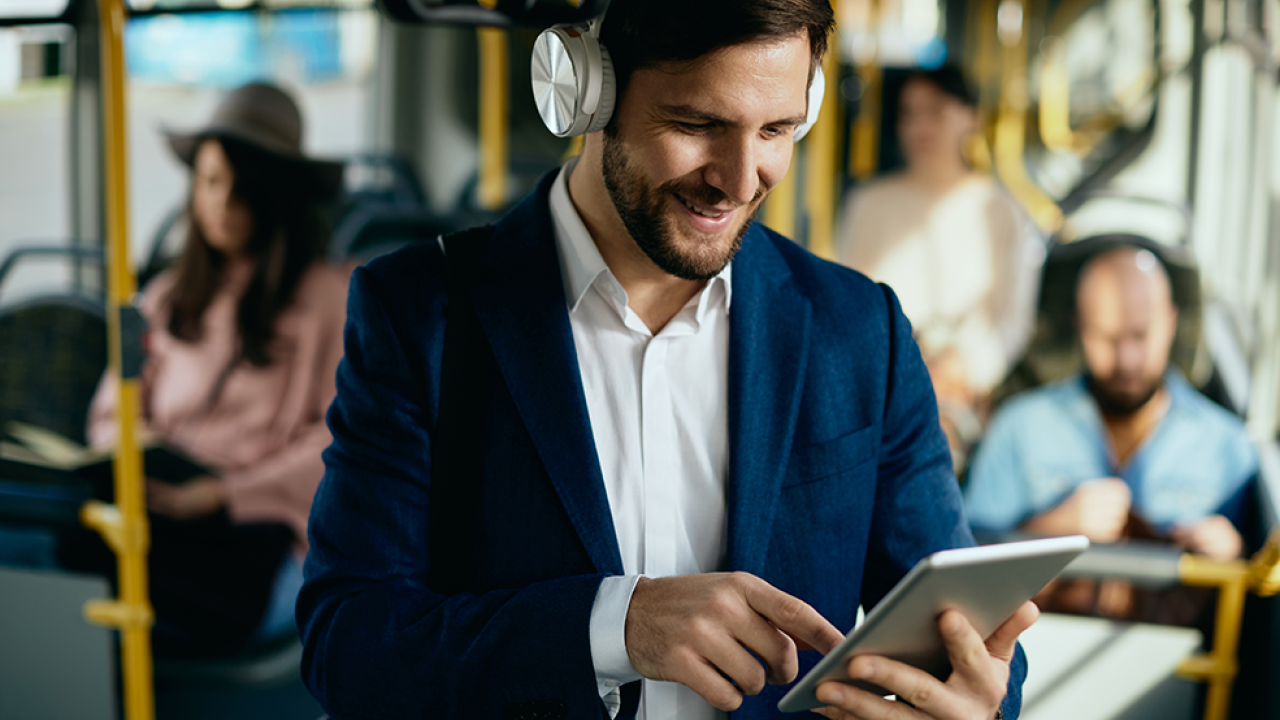 They say accessories make the outfit. Whatever the distance and whether you go back and forth by two feet, two wheels, or share the ride, these essential items can improve your commuting experience. With these accessories your commute becomes smarter, not harder.
Listen In
There are headphones for every ear shape and size. Depending on what feature is most important (budget friendly, noise-cancelling, comfort, wireless, in-ear or over-the-ear) there are a number of options to try on.
Bose, Sony, Beats, Jabra, Plantronics and Sennheiser are the top-rated brands. Popular models among the commuter set are the Bose QuietComfort 35 (for quality) and Anker SoundBuds (for affordability).
For sheer ease Apple's Airpods win – pop them right out of the case and enjoy the decent sound quality.
Carry On
Backpacks, foldable totes, and messenger or courier bags are ideal for commuters. Clothing retailer Everlane has reasonably priced commuter backpacks for men and women. Hershel Supply Co., Timbuk2, and Tumi offer a great range of regular and rolling bags suitable for everyday travel.
Back-Up Plan
Power on the go is critical considering all the electronic gadgets we use.  There are all kinds of portable chargers and power banks. Check out Tech Radar's round-up of the best mobile batteries.
For extra convenience and compactness try a keychain charger. Some come equipped with cables to charge a smartphone, tablet and compact media player.
Thirst Quenchers
A reusable water bottle and travel mug are must-haves whether you long for a gulp of hydration or sip of caffeine.
Klean Kanteen's Classic Stainless Steel Water Bottles are durable, BPA-free, dishwasher-safe and can keep your drink cold for the duration of any length commute.
For hot and cold beverages there's the Thermos Vacuum Insulated Stainless Travel Tumbler, also BPA-free. The tumbler will fit most automobile cup holders, has a leak-proof lid and claims to keep beverages hot for up to five hours and cold up to nine hours — enough for the average work shift!
The next set of items are the enemy of boredom.
Page Turner
Students with textbooks and bookworm staff know the burden of a book laden bag. Thankfully e-readers make bulk obsolete. Amazon's Kindle Oasis is the best rated overall with the Kindle Paperwhite being the more economical choice. Toronto-based Kobo has adequate e-readers too.
For greater connectivity and on the go web surfing our tablet picks are the Apple iPad Pro, Amazon Fire HD and Samsung Galaxy Tab.
On the Road Entertainment
For commuters who enjoy auditory amusement along the way, be it audiobook or radio program, an Audible membership provides a way to get sidetracked in a good story.    
Photo Credit: Getty Images