UCLA students wheelie like to ride bikes.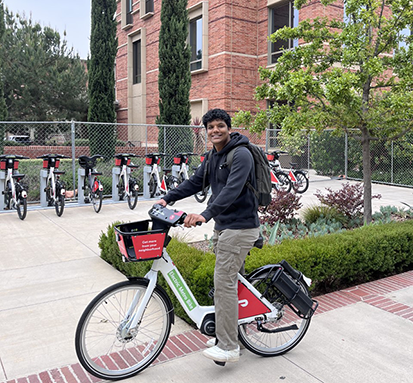 For Gaurav Agarwal, a second-year studying computer science and statistics, the benefits of biking all add up.
Caught cruising around UCLA on a Metro Bike, the bike share system available at a reduced rate for students with stations on campus, in Westwood Village, and all around L.A., we stopped him in his tracks to talk two-wheels before heading off.
"Living in on-campus housing, I use the bikes to get to class and to go into Westwood. It's better than birding (riding an electric scooter) for UCLA students because it costs less."
Ideal for occasions when Gaurav doesn't want to walk or is in a hurry, he describes biking as "the easy and environmentally-friendly way to get around."
"It's also a good workout."
Alumna Kelsey Dempsey, who only recently made her way across the commencement ceremony stage, loved cycling on campus, calling it a peaceful, liberating, and joy-inducing activity.
Juggling class, extracurriculars, and a stint crafting content for the UCLA Housing and Student Affairs social media channels, riding a bike helped her relax — and learn to be more present.
The good times on two wheels have continued to roll for Kelsey. Now a social media coordinator for Dreyer's Grand Ice Cream, she churns out TikToks about Drumstick sundae cones during the week and spends the weekends exploring on her cruiser bike. 
Now it's your turn to fill in the blank. Share on our Facebook, Twitter, or Instagram what adjective after wheelie you'd use for biking for the final chance to win a $25 Amazon gift card during UCLA Bike Month.