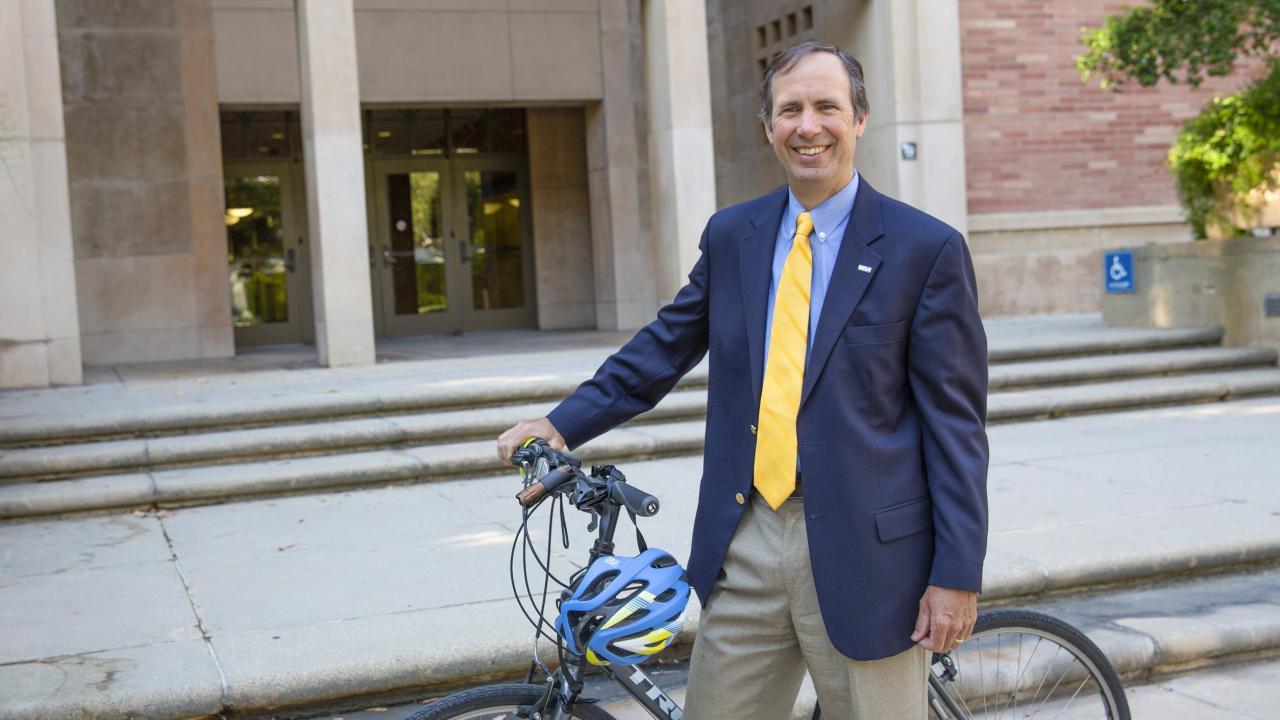 For Rideshare Month, UCLA Transportation is highlighting Bruins who share the ride and encouraging faculty, staff and students to try commuting to campus by walking, biking, carpooling, vanpooling or public transit now through October 31 with a chance to win prizes including gift cards, a Fitbit, Metro passes and more.
Before Administrative Vice Chancellor Michael Beck arrives at UCLA to lead 10 campus operational and service units, he's steering his way through Westwood as a bike commuter.
Not only does he oversee departments like Housing & Hospitality Services, Facilities Management, and Events & Transportation, but Beck also sets an example for the nearly 5,000 UCLA Administration employees by choosing a sustainable commute option.
How did you start riding your bike to UCLA?
I gave up my parking permit in May 2017 but was probably riding to work for about six months before that. The weather here is just phenomenal, so it's nice to be outdoors. And there's the opportunity to get in some exercise. Biking is a much healthier approach.
I biked when I was in school, and always ride my bike around town, so it was a natural extension to start riding to campus. The one challenge was figuring out how to do it in a suit. Ultimately I manage by just rolling up my sleeves or putting the jacket in my bag if it gets warm.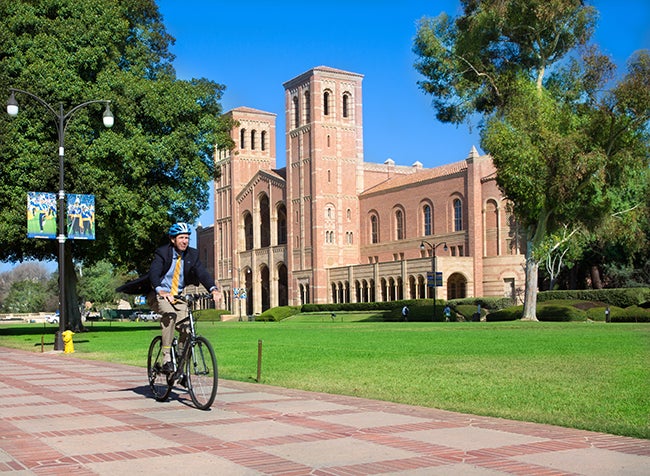 What's your commute like?
My bike route is through residential streets and then across some major corridors. It's a really safe ride, with very little traffic. It's between seven and fifteen minutes each way.
Why do you like biking to campus?
I like the freedom. It's very different when you don't have to drive around looking for parking. I just find a rack and leave the bike. I'm not tied to four wheels and a giant vehicle that can get caught in traffic. In heavy traffic, you may have to go through one or two light sequences in a car. On the bike, I'm up at the front of the intersection. The light turns, and I go.
Are there advantages to biking instead of driving to UCLA? The exercise, getting to speed through traffic, and not deal with parking are benefits.
With my bike, I have a zero cost commute. I'm not paying for a permit. There's no gas, there's no parking, there's no wear and tear on my car and my insurance is lower because I'm driving fewer miles.
How else do you navigate the campus and handle meetings off-site?
To get to the Wilshire Center if I'm not taking my bike, I'll take the BruinBus. I'm a regular rider. It's so convenient. I won't bring my car, even when I have a meeting off-site. There was a strategic planning retreat at the Annenberg Community Beach House in Santa Monica. We finished at four in the afternoon. Everybody had cars, and I had my bike. I got back to Murphy before anybody else.
Do you have advice for other Bruins considering biking to campus?
Identify a route you feel comfortable with. Don't try to take the shortest path, take the safest.
Give yourself enough time so you're not being rushed and can enjoy it.
Some people have concerns about L.A. traffic, but you manage to circumvent it by planning your route.
I think people are fearful about biking because they see or read about accidents. At least for me, each of the times I should have gotten in trouble is because of what I've done, not because of somebody else. There are things you can do as a rider to be more observant and a little safer. There's certainly still a risk, but there's a significant risk of being in a car accident.
Has anything changed since you switched to bike commuting?
I don't miss my car. What's interesting is I use my bike a lot on the weekend now, to go to the supermarket and once I rode to Dodger Stadium. Riding the bike changes the way you look at getting around L.A.