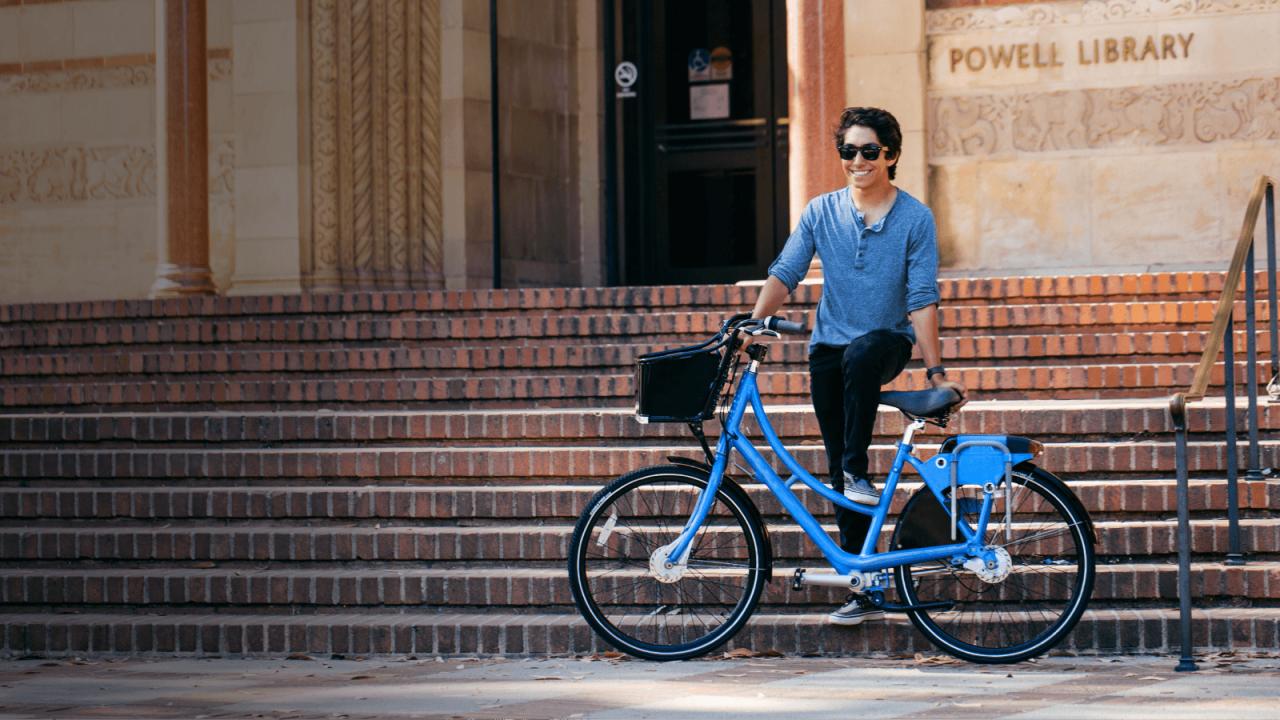 Whether you are setting foot on campus for the first time this fall as a freshman or transfer student or are a seasoned Bruin eagerly awaiting your triumphant return to Westwood, you can have the time of your life at UCLA on two wheels. Here are seven reasons why every Bruin should be riding a bike. 
1. Good for the mind & body
Consistent bike riding offers incredible physical and mental health benefits, including helping you stress less and strengthening your immune system.
2. Great form of exercise
Riding a bike is a fun, easy way to improve your fitness. The low-impact aerobic exercise biking provides works your whole physique, from your shoulders and arms to your lower body and down to your feet. And it requires no gym membership!
3. Get to class quicker
Forgot to set the alarm for that 8:00 a.m. class? No problem when you've got a bike! Haul those textbooks in your basket and speed off on your way.
4. Affordable alternative transportation
Every penny counts when it comes to the cost of attending college. Skip the expensive parking permit (not to mention the hassle of locating a parking space) by bike commuting. If you've got a lot of ground to cover, hop on the bus to make up the distance. UCLA offers a slew of different transit passes at reduced rates.
5. Better for the environment
Pedal power doesn't pollute the air.
6. Bike with Fellow Bruins
Biking is great for your social well-being. Riding a bike is a pleasant actively done solo, but even more enjoyable with a group.  
7. And finally, UCLA is a certified Gold Bike Friendly University!
UCLA boasts over seven miles of bike routes, over 3,500 free bike parking spaces in racks all over campus, and a bike shop run by UCLA Recreation that offers workshops, route plans, and assistance with repairs. If you don't own a bike, you can rent one on campus. 
Ready to roll? Get more bicycling at UCLA resources right here.