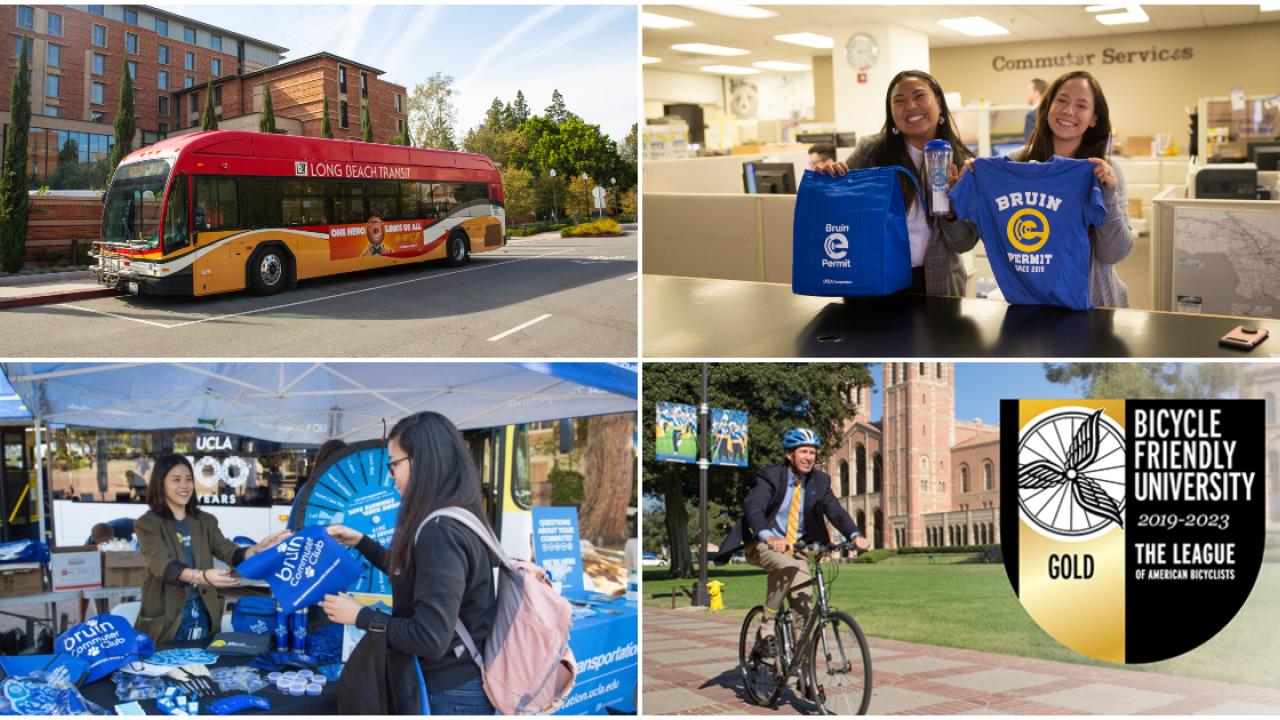 2019 was a banner year for UCLA Transportation. Not only did we launch programs and initiatives that provide more sustainable commuting options for Bruins, we were also recognized for our efforts with multiple awards and accolades. Here's some of the major accomplishments we achieved this past year.
Long Beach Transit
In April we partnered with Long Beach Transit to launch our first ever commuter line from the coastal city. The service provides a direct connection to Westwood with the convenience of free parking at both Long Beach stops. Bruins who purchase their first 30-day pass receive a second 30-day pass free as part of a special offer.
Bruin ePermit
May marked the launch of the Bruin ePermit system which uses virtual technology to scan license plates for a valid parking permit. Customers can now purchase and manage their permits online, eliminating the need to wait in line at the Transportation lobby. The paperless system also helps the environment by removing 1,500 pounds of paper and 30,000 plastic hangtags from the production process each year.
Shared Mobility Partnerships
As part of a shared mobility strategy, UCLA signed a provisional contract with Lyft, Bird, and Wheels to provide electric scooters and electric bikes to the campus community. The contractual arrangement enables better oversight over how electric scooters and electric bikes operate on campus and will help ensure the safety of both riders and pedestrians. It also includes discounts for Bruins such as $0.50 off a Lyft scooter ride when you park in designated areas around campus.
Earn-A-Bike
This fall saw the relaunch of the popular Earn-A-Bike program where UCLA employees and graduate students can get a free $450 bicycle package in exchange for their parking permit. Each package includes a bike as well as a light, lock set, helmet, and Bruin Commuter Club (BCC) welcome kit. The program is designed to get employees and graduate students to ride a bicycle to campus as a sustainable, economical, and healthy alternative to driving alone.
Rideshare Month
Our annual Rideshare Month celebration in October featured Bruins who work hard and commute easy by using sustainable forms of transportation. We held events all around campus including our Rideshare Fair on Bruin Plaza, encouraging students and employees to pledge to rideshare during the month. Those who did were entered into a drawing to win one of over 100 prizes including gift cards, ASUCLA restaurant vouchers, and Metro passes. This Rideshare Month was our most successful ever as we received a record-setting 3,300 pledges, 1,100 more than last year!
U3 BruinBus Route
In an effort to enhance the rider experience, BruinBus rolled out the U3 Route from Weyburn Terrace to Gateway Plaza in November. The new route aims to reduce overcrowding during peak travel times with increased capacity and improved transit service throughout campus. Service from Weyburn Terrace to campus begins at 8:30 a.m. and runs every 30 minutes until 5:00 p.m. Monday through Friday (excluding University holidays).
Awards and Accolades
UCLA Transportation received our fair share of awards and accolades this year. The National Parking Association recognized us as the 2019 Innovative Organization of the Year, the parking industry's highest honor. We earned status as an Accredited Parking Organization (APO) with Distinction from the International Parking & Mobility Institute, who also awarded us with a Marketing Award for our 2018 Rideshare Month campaign. We were once again named one of the Best Workplaces for Commuters for offering employees commuter benefits that meet the National Standard of Excellence. Our efforts to manage emerging transportation options were recognized with a 2019 Energy Efficiency and Sustainability Best Practice Award at the California Higher Education Sustainability Conference. And the League of American Bicyclists awarded UCLA the Gold Bicycle Friendly University designation for our achievements in promoting and enabling safe, accessible bicycling on campus. With all that we accomplished in 2019, we look forward to doing more in 2020 as we continue to provide sustainable transportation options while striving to make UCLA a safer and more livable environment.