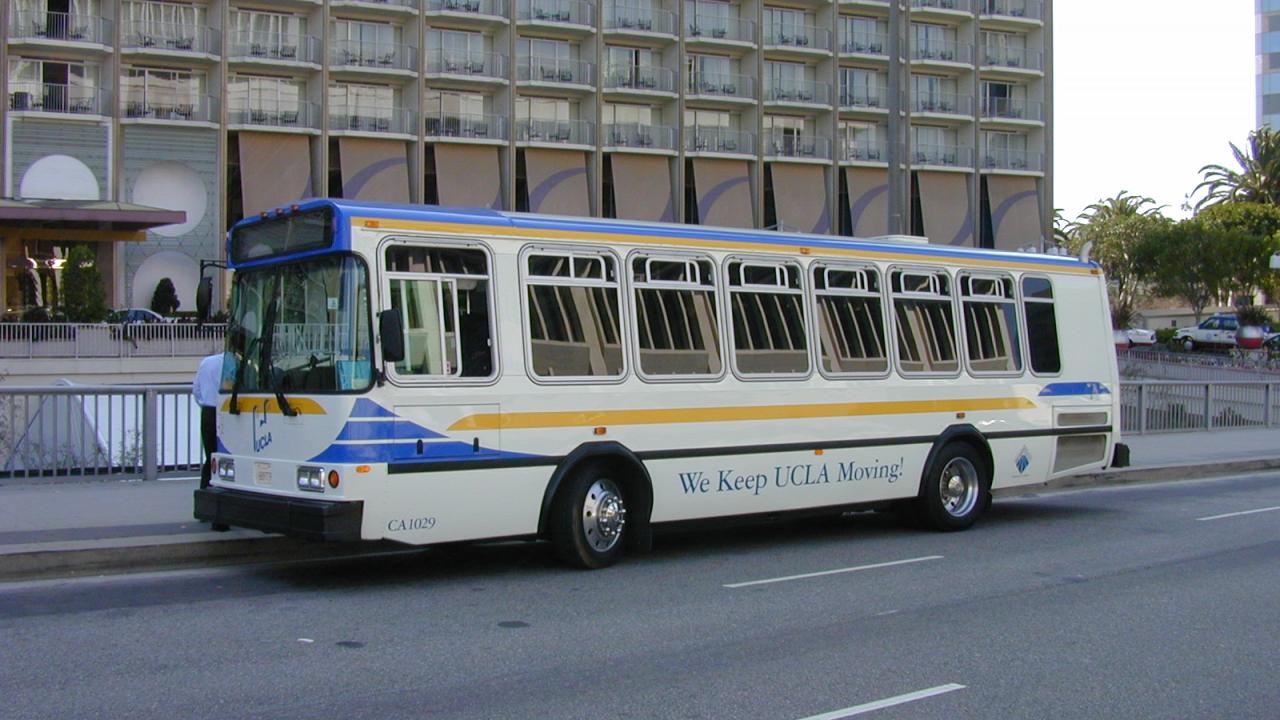 In honor of UCLA's centennial year, take a look in the rearview mirror at UCLA Transportation and see how far the department has come. Over the decades, the University's transportation and parking needs have shifted, yet the course has remained the same: to help steer faculty, staff, students and visitors in the right direction.
UCLA Vanpool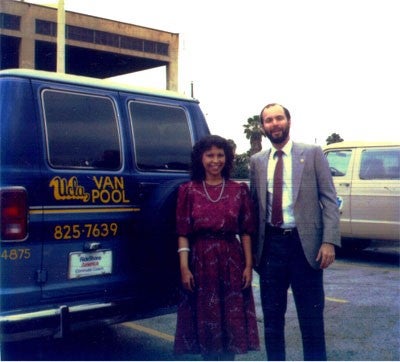 When UCLA was designated as an Olympic Village and host to several events for the 1984 Summer Games, a modest commuter vanpool program was launched to counter the anticipated traffic congestion. The Games came to an end, but UCLA Vanpool rolled on. Now, 145 vanpools serve 80 Southern California communities, coming to campus each weekday from areas as far as 70 miles away.
BruinBus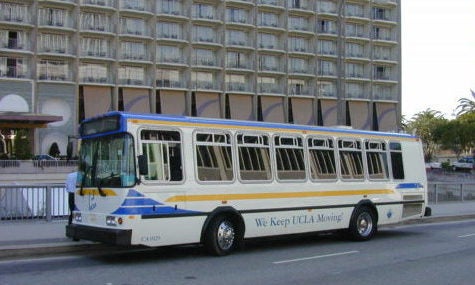 The University's complimentary shuttle serving the main campus, Westwood Village and Wilshire Center is celebrating its 30th anniversary. Last year BruinBus traveled close to 200,000 miles and transported over a million riders. Over time UCLA's blue and gold fleet has gotten greener, with zero-emissions electric buses that boast even better features than their gas-powered predecessors, like higher passenger capacity, faster wheelchair handling, improved safety features and quicker operating performance.
Parking Permits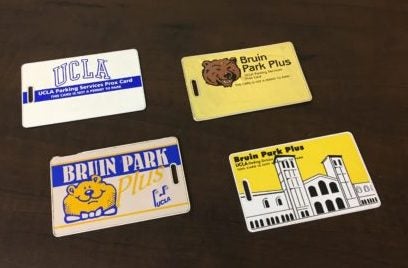 Gate access cards and hangtags are a thing of the past with the introduction of Bruin ePermit, which uses license plate recognition technology. The advanced system is more efficient and sustainable than the previous generation of physical permits.
Biking at UCLA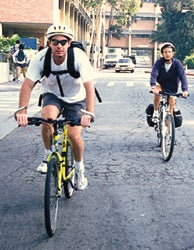 UCLA was one of the original 20 campuses in the country to become a Bicycle Friendly University when the award was created in 2011 by the League of American Bicyclists. Bike rides to and around campus have gotten much smoother with the addition of protected bike lanes, the Bruin Bike Share program and amenities like 3,000 free bike parking spaces, free bike repair stands, bike lockers and annual bike events like Bike Week and Bike Recycling Day.
Ridesharing
Back in 2007, KCET public television series Visting... with Huell Howser gave UCLA Transportation's ridesharing options their small screen debut. Host, producer and writer Huell Howser hopped on the BruinBus and interviewed UCLA commuters about the benefits of choosing alternative transportation. Sustainable commuting has come a long way since the episode aired, and in 2018, the overall employee drive-alone rate fell to under 50 percent for the first time in campus history. The number of vehicle trips on campus dropped by almost 4,000 compared to the previous year, with Bruins collectively moving away from solo-driving, reducing traffic and improving air quality in the process. Howser said, "The trip of a million miles can start on a bus, bike or carpool." As UCLA embarks on its second century, the roadmap for the future includes more sustainable transportation initiatives that support the campus community and surrounding area.