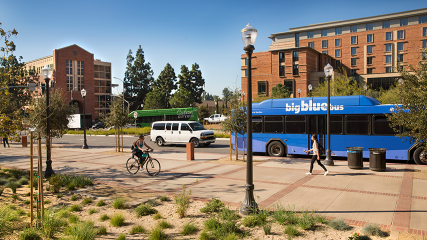 The Transportation Service Advisory Board (TSAB) was originally established in 1998, as part of the General Service Advisory Board, to provide campus departments which supplied services to the UCLA community with feedback and guidance from their service recipients, focusing on providing input on strategic direction, service quality, efficiency, and cost effectiveness of services.

In 2001, when other service advisory boards were disbanded, the TSAB was reconstituted to provide input to the Administrative Vice Chancellor on transportation-related matters, and its original charge remained: to "work collaboratively with service providers to ensure that the strategic direction and operational outcomes of service providers are appropriate in the context of the overall campus mission and vision, and that high quality services are provided efficiently and effectively."

The TSAB participants have a closed meeting once each quarter to represent and discuss the interests of the broad campus constituency. For questions related to TSAB, please contact the UCLA Transportation Executive Assistant, Michelle Peralejo at mperalejo@ts.ucla.edu.

Please see below for the current Fiscal Year 2023-2024 roster of TSAB members and service providers.   
Board Members

Sarah Brockhaus 
Sustainability Programs Manager, UCLA Health

Evan Curran 
USAC Facilities Commissioner, Undergraduate Students Association Council

Enrique Lopez Droguett
Professor, Civil and Environmental Engineering

Tiffany Garnett
Board Chair FY 2023-24
Director of Student Affairs & Inclusive Learning, UCLA Law School

Xen Hoi
Representative, Graduate Students Association

Jiaqi Ma
Associate Professor, Civil and Environment Engineering

Ashley Rogers
Assistant Director, Environmental Planning, Capital Programs

Aviv Schifrin
Representative, Undergraduate Students Association Council
UCLA Transportation

Tony Lucas
Executive Director, UCLA Events & Transportation

Clinton Bench
Director, Fleet & Transit

Dave Karwaski
Director, Mobility Planning & Traffic Systems

Ray Manguso
Director, Commuter & Parking Services

Michelle Peralejo
Executive Assistant