Did you know that there are 65,000-70,000 people on the UCLA campus on any given weekday?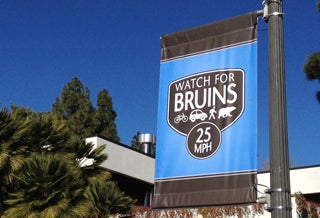 Students, employees and visitors in cars, on bikes or riding skateboards and scooters travel on campus each day. Many have their heads down and eyes glued to the screen of their smart phone as they text, tweet, surf and post while on the move. Watch for Bruins is a campus-wide campaign aimed at keeping people safe by reminding motorists to drive slowly and remain alert for other travelers.
25 MPH: The highest posted speed limit on the UCLA campus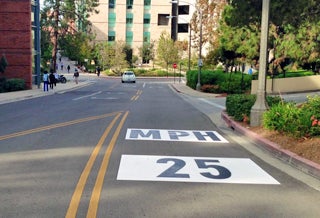 As a reminder to keep an eye out for others, 24 Watch for Bruins pole banners have been affixed to signposts throughout campus and will remain posted until March 28, 2013. In addition, new pavement stencils indicating applicable campus speed limits have been painted onto the roadways as drivers enter UCLA. The highest posted speed on campus is 25 miles per hour, with some sections of campus roadway as low as 10 or 15 mph. As more people text, tweet or otherwise use their mobile devices while on the move, remaining alert and aware of those around you becomes increasingly important. The Watch for Bruins campaign is a part of UCLA Events & Transportation's continual efforts to create a safe and secure campus environment.