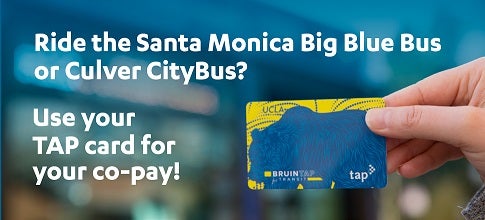 With the purchase of a BruinGO! pass, UCLA students and staff can enjoy unlimited rides on Santa Monica Big Blue Bus (BBB) and Culver City Bus (CCB). But if you are not a regular rider, you can still ride BBB and CCB at a discounted rate with the UCLA Co-Pay. 
In order to take advantage of the co-pay option:
Access the BruinTAP for Transit Portal by signing in with your UCLA Logon ID.
Read the important information on the page and click on Continue at the bottom.
Select the Co-Pay Product ($2.00 fee), choose your method of delivery, and select Cashnet as the payment method (the Co-Pay is not eligible for payroll deduction)

If you have an existing UCLA TAP card, the co-pay will be ready for use within four business days.

Click on Submit Order to complete the transaction.
Load funds to your card at the Central Ticket Office, a TAP vendor location, or by calling 1-866-TAPTOGO (1-866-827-8646).
TAP your card when you board and ride for $0.70. 
Please note that BBB will only accept UCLA TAP card payments for the discounted co-pay rate. On CCB you can still pay a discounted co-pay rate of $0.80 without a UCLA TAP card by showing your BruinCard to the driver.  
DIRECT LINES TO UCLA