UCLA is home to Southern California's first bike counter.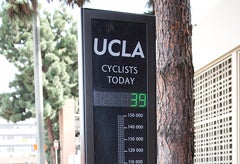 UCLA Transportation is proud to present the campus' first automated bike counter. The bike counter is located on the southern side of Strathmore Place next to the green bike lane. The counter displays the number of daily bicyclists and annual bicyclists who pass it. Similar bike counters have been installed in bike-friendly cities such as Portland, Orgeon; Seattle, Washington; and Copenhagen, Denmark.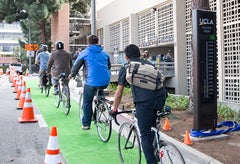 The counter is one of many bike infrastructure improvements that are intended to make UCLA a more bike-friendly campus. UCLA is proud to be the first in Los Angeles to install an automated bike counter. While the Counter provides real-time ridership information, it also serves as a welcoming gateway sign and bicyclists can see that they're part of a larger community.
The Counter was manufactured by Eco Counter. Eco Counter is an international company that specializes in pedestrian and bike counting systems. The counter was funded by The Green Initiative Fund and UCLA Transportation. 
Data from the Strathmore Bike Counter is available to the public here: http://ucla-strathmore-bike-counter.visio-tools.com.