30,000 plastic hangtags eliminated 
22,000 parking permits processed 
1,500 pounds of paper saved
1 parking industry award
Almost a year to the date of the launch of UCLA's new virtual parking permit system that utilizes license plate recognition technology, Bruin ePermit has won an International Parking & Mobility Institute (IPMI) Marketing Award.
Bruin ePermit streamlines parking services and improves sustainability. The transition to a paperless system led to a substantial reduction in paper and plastic waste, and for campus commuters, an enhanced customer experience: no more paperwork to fill out, no need to wait in line at the Transportation lobby, and the elimination of gate access cards and hangtags.
The world's largest association of parking, transportation, and mobility professionals, IPMI, honors outstanding individuals and organizations for industry excellence in the parking sector through their annual awards programs in three categories, including marketing.
IPMI's Marketing Awards recognize outstanding parking and mobility-related marketing, public relations, or communications programs. Winners showcase the creativity that goes on in parking.
For the 2020 IPMI Marketing Awards, Bruin ePermit's multi-faceted campaign was honored for its innovative strategy to introduce a new parking permit system to a campus population of close to 70,000 commuters.
Introducing a brand-new system to the entire campus community required a robust marketing effort. The Bruin ePermit launch demonstrated a wide spectrum of marketing tools, with digital and print advertisements, multimedia content, and promotional items, in addition to outreach events.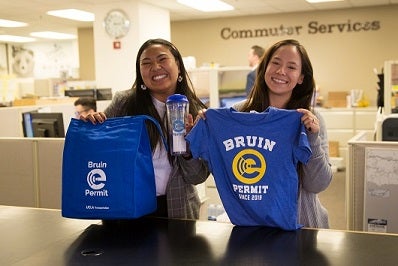 The "Your Plate is Your Permit" campaign included targeted emails, blog posts and press releases, social media content, eye-catching posters, animated GIFs, an instructional video, and giveaway items including custom t-shirts, with original designs, all helping educate Bruins about the virtual system.
By utilizing various communications assets, the Bruin ePermit rollout was a success, with a high adoption rate, and the goal of processing 20,000 permits reached by the deadline.
Today, Bruin ePermit gives commuters the flexibility to participate in the department's sustainable transportation programs and pay for parking as needed.
Read more about how all of this year's award winners used creativity and spark to lift their operations and the industry in the latest issue of Parking & Mobility magazine.